2936 Portland Ave. So.
28 x 60 Frame dwelling
Owner: T. P. Healy
Architect:
Builder: T. P. Healy
B22718
6-12-90 / 9-1-90
Est. cost: $6,000.
I have been scrupulous in recording how Healy fills out the building permit in regards the lines Owner, Architect, and Builder. I have no idea why he chooses to put himself down as the builder on this house when he typically does not.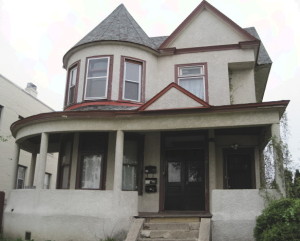 So much of the design aesthetic of this period is integrating the round and curves with the rectilinear and the triangle. Healy gives us dozens of variations with very few identical twins. (Photo from May 2011)
The southside gable end. Note the characteristic Healy curved second story wall below the gable end.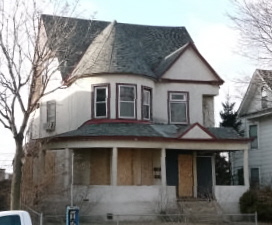 By the end of 2011, the house was vacant and boarded up. In 1981 the then-owners of this house told the researchers that it had a ghost cat who would run down the stairs from the upper unit and leap through the closed door.
–A.C.