A freeway exit marks the place where the Healy houses on the west side of the 3100 block of Second Avenue once stood.

They were wrecked in 1960 when the building of I-35W cut a

swath of destruction through the center of South Minneapolis.
1.) Permit information:
3132 Second Ave. So.
40 x 52 Frame dwelling
Owner: T. P. Healy
Architect:
Builder:
B19302
6-22-89 / 10-1-89
Est. cost: $5,000.
This house is much wider than he is typically building at this time.
By starting this house, we can see from the dates on the permits that he is working on three different houses in two different neighborhoods–Central and Kenwood.
2.) Permit information:
3130 Second Ave. So.
30 x 52 Frame dwelling
Owner: T. P. Healy
Architect:
Builder:
B18375
4-17-89 / 8-1-89
Est. cost: $5,000.
3) Permit information:
3136 Second Ave. So.
35 x 60 Stone ven. dwelling
Owner: T. P. Healy
Architect:
Builder: T. P. Healy
B25946
8-5-91 / 11-1-91
Est. cost: $7,000.
Wrecked: 1960
This is the most expensive house up to this date that Healy built on this his "home" block. It stood directly across the street from the first house that we know he built.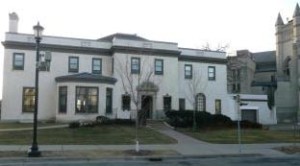 425 Groveland Avenue
4) The house shown is not a Healy, but a Healy house built for Gilbert M. Walker (whose wife founded the Walker Art Center) stood on this site from 1892 until 1923. This is the first Lost Healy, lost to the Roaring Twenties. Think of everything that happened between 1891 and 1923; the world had changed in so many ways. A man like Walker wasn't going to live out his days in a Victorian house. It was so last century.
The house pictured above was Gilbert Walker's new house.
Permit information:
425 Groveland Ave.
82.9 x 56.7 Tile Dwelling
Owner: Gilbert M. Walker
Architect: Ernest Kennedy
Builder: Nels Jenson
B173713
10-3-23 / 5-1-24
(Interior to be completed later.)
Est. cost: $30,000.

Gilbert Walker would die in 1928; his wife lived until 1951.
From Wikipedia: The (Walker) Museum's focus on modern art began in the 1940's , when a gift from Mrs. Gilbert Walker made possible the acquisition of works by important artists of the day including sculptures by Picasso, Henry Moore, Alberto Giacometti and others.

T. P. Healy had built a house for J. B. Gilfillan at 218 Clifton Ave. in 1905-06, designed by the same architect, Ernest Kennedy.
Nels Jenson, the builder of this house, was Healy's foreman.
–A.C.