Healy Block residents, fans of T.P. Healy, preservationists, and activists in the Central Neighborhood are celebrating the acquisition today of the famous Bennett-McBride House at 3116 Third Avenue South by Healy's great-grandson, John Cuningham. Cuningham, a grandson of Healy's eldest daughter Alice, is a prominent Minneapolis architect (http://www.cuningham.com/). Thanks to a concerted effort by the previous owners and members of the Healy Project, including Anders Christensen, Madeline Douglass, Connie Nompelis, Brian Finstad, and David Piehl, Cuningham closed on the house today.
This justly celebrated Queen Anne was the first Healy-built house to be recognized as a superb example of the style. In 1977 the Bennett-McBride House was listed on the National Register of Historic Places, heralding the historic designation in 1995 of the other thirteen Healy houses on that block as the Healy Block Historic District.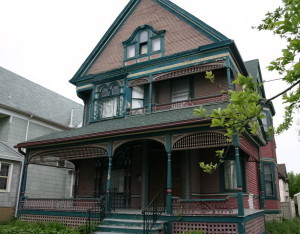 3116 Third Ave. So. B25076
30 X 60 Frame dwelling 4-24-91/ 8-1-91
Builder: Est. cost: $5,000.
Healy's name is not on the permit, which was taken out by the first owner,
Henry Harrison Bennett, owner of the lumber yard that bore his name. The second owner, John M. McBride, operated a grocery story at 3045 Nicollet Avenue and lived in the house until his death in 1943. Subsequent owners have taken good care of the house, which boasts most of its original millwork inside and out. At the rear of the house is the original barn, complete with cupola.
The north side, showing typical Healy dormer and second-story balcony. The missing balusters on the porch were kicked out by an intoxicated man

–

–

but saved for future replacements.

Amazingly, most of the exterior woodwork is original.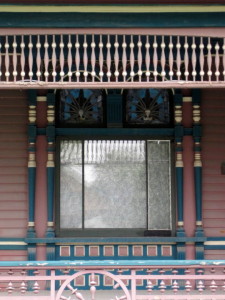 Detail of the front porch: the ball-and-stick fretwork and stained glass windows.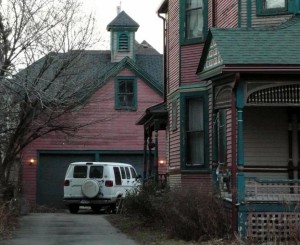 The south side, showing the barn (one of the few unchanged Healy barns still standing) and the back porch.
g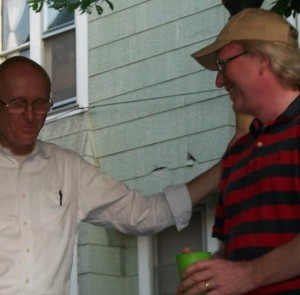 John Cuningham and Anders Christensen celebrate the former's acquiring the Bennett-McBride House (house next door in background), June 28, 2012 (photo by M. Douglass)
–T.B.