Permit information:
3131 Second Ave. So.
28 x 55 Wood dwelling
Owner: T. P. Healy
Architect:
Builder:
B21410
2-24-90 / 5-1-90
Est. cost: $5,000.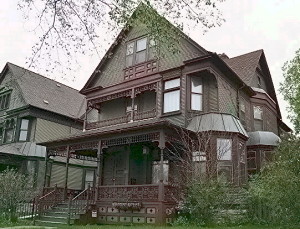 The Healy Family lived here only two years, 1890-92. In the Healy Block literature, the house is called the Healy-Rea House
From 1890-1892, T. P. Healy builds the Queen Annes that we think of as his classics. My records show that he built 30 houses and a couple of barns during this three year period. Six of these houses have been wrecked, four for I-35. Minneapolis's population had nearly quadrupled in the 1880s; it was still growing. Twenty-three of these houses were built by Healy on spec; seven were built for clients. Only two were designed by architects;
Healy designed the rest. Nationally, the American economy was heading for a bubble and a crash in 1893.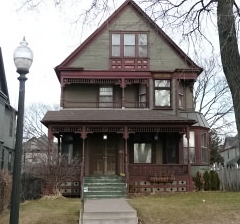 The front gable end features a high-pitched roof and unusual window treatment.
Note by David Piehl: "Those doors themselves are not original to the house. In the 1970's this house was a boarding house, and the owner of 3127 (Adrian Sarff) took one of the original doors with him as a "souvenir" when he sold it to Bruce Grosklags. Bruce talked the absentee landlord of 3131 out of the doors there, and so for many years that set of doors was on 3127. The other original door from 3127 was removed from the basement when George & Andy left, but in the early 1990's Andy helped me locate it. Some of the Sarff family stopped by to see the house in the mid 1990's as they returned home from Adrian's funeral. I was aware that they had the other door (made into a coffee table), and delicately suggested they contact me if they ever wanted to part with it. A few weeks later it appeared on my front porch with a note from them. A few inches at the top and bottom had been cut off, but Pete Holley made a near-seamless repair and I reinstalled them. The original doors for 3131 are badly weathered, but salvageable and are in my basement until the current or future owners of 3131 want to restore them."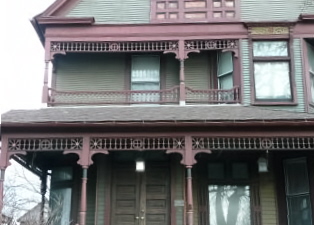 The classic Healy second story–the bay with an elaborately trimmed center window, the porch, the rich fretwork.
–A.C.