If you have been in a fight to save an old house, you soon found out that these battles are political. Who has the power usually determines who wins–which is why so many preservation battles are lost. Money is power, and the forces of money are heavily weighted on the side of new development. Economic development is the name of the game, and if this means wrecking and rebuilding whole cities to keep the engine of late capitalism chugging, that's what must be done (so they allege).
In Thomas Pynchon's novel about New York before and after the 9-11 attacks, two characters are at the Pireus Diner, a funky old survivor of yupdating:
"I can't believe this place is still here."
"Come on, this joint is eternal."
"What planet are you from again? Between the scumbag landlords and the scumbag developers, nothing in this city will ever stand at the same address for even five years, name me a building you love, someday soon it'll either be a stack of high-end chain stores or condos for yups with more money than brains. Any open space you think will breathe and survive in perpetuity? Sorry, but you can kiss its ass goodbye."
—Bleeding Edge (2013), p. 117.
That's the observation of New Yorkers, but the scene could take place in any city in the world.
One of the lions guarding the entrance to the New York Public Library (Carrère and Hastings, 1897-1911). This beloved landmark is currently the center of a heated controversy about Norman Foster's scheme to radically alter the building's design.




If old, cherished buildings are to be saved, preservationists need to have a clear idea of what they want to do and why. Who are these "preservationists"? Many disparate voices speak up for old buildings, and their reasons for doing so are as diverse as the groups they belong to. On one end of the spectrum is the Establishment. These are the people who come to mind most often when the word "preservation" is mentioned, the group(s) with both money and influence in government.
Chief among these is the National Trust for Historic Preservation, which, according to their website, is "a privately funded nonprofit organization [that] works to save America's historic places. We are the cause that inspires Americans to save the places where history happened. . . . As the leading voice for preservation, we are the cause for people saving places." The Trust and state-based organizations like the Preservation Alliance of Minnesota do great work–for example, funding studies on preservation-related issues (building green, encouraging tax credits), serving as liaisons with government entities, advocating for endangered buildings, running house museums.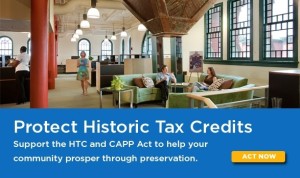 A Trust ad encouraging people to join in the cause of protecting historic tax credits.
Many of their members are Players, or those connected with Players, people in government and the private sector who have influence over the outcomes of preservation battles. Some Players are elitists, those who are primarily interested in important monuments, like the homes of Victorian industrialists and elegant old apartment buildings. If they have enough money and political influence, they can have dazzling against-the-odds successes. Take, for example, the fight to save Grand Central Terminal (Reed and Stem, Warren and Wetmore,1903) in New York from being redeveloped with an enormous tower built over it. The battle, led by prominent New Yorkers like Jacqueline Kennedy, wound up being decided by the Supreme Court in 1978–the first case to be heard by that body on a preservation issue. Grand Central stands today because of the prestige and influence of its defenders against big money/big developers.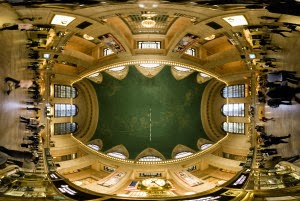 The ceiling in Grand Central Terminal concourse, looking up from the main floor.

At the other end of the preservation spectrum are the Grassroots preservationists. These are the small groups and individuals who, for reasons of aesthetics, sentimentality, or practicality, want to preserve old houses and their urban neighborhoods. They love the houses not because some big name architect designed them, or someone important lived in them, or something important took place there, but for other, perhaps more obscure reasons. Maybe they like the way an old house looks (or might look). Maybe they appreciate the craftsmanship and quality of materials in the old building. Maybe they simply can't afford to buy a house of similar size and quality in a more upscale neighborhood. Or maybe it's a combination of all of these. Whatever the reason, these preservationists of modest means band together when one of their own is threatened.
What distinguishes many of these Grassroots preservationists is that they are standing in the front lines of the battles with irresponsible landlords and predatory developers. They are the ones who are often at odds with city planning departments and the developers they are in cahoots with. Livability matters to them. If the once-beautiful old house next to theirs is rented to party-all-night cokeheads or hookers, or if two houses across the street are slated to be torn down and replaced by a soulless, fake-green apartment building, they are the ones who take action. Their cries for help may or may not be heard by the Establishment–usually not. Instead, they function as voices crying in the urban wilderness, banding together with like-minded homeowners, business owners, and tenants to save the old neighborhood from the bulldozers.
Grassrooters don't have the money to fund a complete or even partial rehab or restoration of a house as soon as they buy it. Instead, they chip away at the rehab, doing some of the work themselves, bit by bit, as finances allow. I know because I am one of these preservationists. When we bought a ramshackle 1885 Queen Anne in 1976, it was in very sorry condition. All the woodwork had been painted, the exterior had two layers of siding, and all ornamentation had been removed. Alarmingly, some fool had removed part of a load-bearing wall to install a cold-air return, and the middle of the house was settling cellarwards. It took a lot of hard work and not a small amount of change over a 33-year period to whip the house back into shape. Over those decades my family endured frozen pipes, drafts, broken stair treads, carpenter ants, and dozens of other ills that old houses are heir too–including a haunting by a former owner. On one occasion, carrying a heavy can filled with old lathe and plaster, I fell through the floorboards of the summer kitchen. It was like living in the Money Pit, but without the money.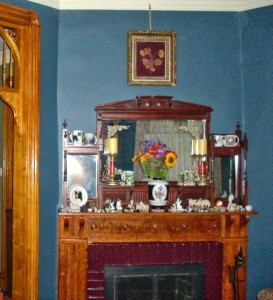 The mantlepiece in the front parlor of my house. In 1976 the bottom part had been painted, and the top part stuck in the attic. The original tiling and firebox were long gone. The missing center mirror was replaced and the wood stripped and refinished. The 1950's brickwork remains as it was.
Whatever kind of preservationist you may be, If you care about Healy houses, or any other old house, the most effective way to preserve them is to join together. The best way to fight City Hall (or MnDOT or yupscalers) is to define your goal, band together, and spread the word.
–T.B.
Next: Examining what's happening in and around the Healy Block Historic District in South Minneapolis. Despite their historic designation, the Block and other houses on nearby blocks are facing threats ranging from arsonists to a MnDOT scheme to widen Interstate 35W–which already took the west side of Second Avenue in the 1960s. Their historic designation itself is threatened by City approval of a variance allowing the "opening up" of the interior of the Bennett-McBride House, the only remaining Healy house with an intact original interior.