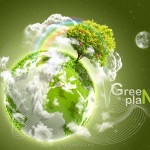 On this day that celebrates Planet Earth, residents of our beautiful planet are urged to conserve dwindling resources by recycling everything from plastic bottles to buildings. The "Zero Waste" initiative of the City of Minneapolis similarly encourages citizens to conserve resources:
"Zero Heroes strive to have Zero Waste. They do this by working to first prevent waste, and then by recycling all they can of the waste that remains.  To lower this amount of waste we need to take a step beyond recycling: waste prevention. Waste prevention is reducing the amount of waste and the toxicity of waste. Waste prevention saves natural resources, energy, and may even save you money." City of Minneapolis Web Site
However, while the City Solid Waste and Recycling Department is urging citizens to compost and recycle bottles and papers, the City Planning department has been facilitating the demolition of an historic house–which will send 180+ tons of materials to the landfill.  This  disconnect between saying and doing shows a gobsmacking hypocrisy: Citizens recycle while the City cancels out their efforts by a thousandfold in the demolition of one house.
"The facts are in – no matter how much green technology is employed, any new building represents a new impact on the environment.It makes no sense for us to recycle newspapers, bottles, and cans while we're throwing away entire buildings and neighborhoods.It's fiscally irresponsible and entirely unsustainable."Jerri Hollan, FAIA
"Zero Waste" makes zero sense when the City shows blatant contempt for the most important piece of sustainability–recycling existing buildings.  City Planning sent staffer John Smoley to the HPC twice to argue for its "save only the best buildings in the best neighborhoods" policy–and twice, after vigorous debate, the HPC affirmed that that the Orth House, 2320 Colfax Ave. S. is historic and should be placed under interim protection while a designation study is completed.  But when the owner's appeal to demolish was heard before the City Zoning and Planning, CM Lisa Bender, taking the unsupported testimony of the appellants as fact, declared that no viable alternatives existed to wrecking the house, and made a motion to overturn the HPC's decision. The motion passed with no debate.
"By 2030, we will have demolished and replaced nearly 1/3 of our current building stock, creating enough debris to fill 2,500 NFL stadiums. How much energy does this represent? [E]nough to power California (the 10th largest economy in the world) for 10 years. By contrast, if we rehabilitate just 10% of these buildings, we could power New York for over a year."UrbDeZine SanFrancisco
The hypocrisy of the City regarding recycling would be laughable if it weren't so appalling. Minneapolis needs to start practicing what it preaches. Citizens recycling cans and bottles is wasted effort if the government is not encouraging the recycling of buildings.
Don't jive us, City of Minneapolis. Be a Zero Hero and affirm your alleged commitment to Zero Waste. Allow the historic Orth House to be recycled.  The Greenest Building is the one standing.