2546 Portland Avenue South, Minneapolis, MN
Sunday, December 3, 2017   1-4 p.m.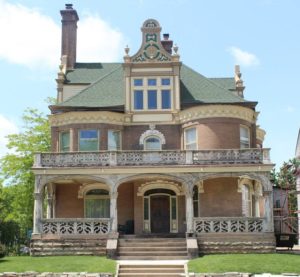 In July the Healy Project held an open house at the Renaissance Revival mansion at 1300 Mount Curve, designed by William Channing Whitney and built by T.P. Healy.  The Winter Party will be held in another architect-designed and Healy-built house of a very different style. Join Healy homeowners and supporters of the Healy Project at a party in the exquisite Châteauesque house at 2546 Portland Avenue South, designed by Edwin P. Overmire and built by T.P. Healy in 1900. Hand-carved Corinthian capitals and a gilded  domed ceiling in the foyer are just two of the elegant interior features.
Overmire began his career as a draftsman for Plant and Whitney before he became a celebrated architect in his own right.  Just five years after this house was built, Overmire met an untimely death at age 41.
The suggested donation of $20 will support the ongoing research on buildings by Healy and other master builders. Refreshments provided.