Permit information:
3127 Second Ave. So.
30 x 55 Frame dwelling
Owner: T. P. Healy
Architect:
Builder: Self
B21731
4-2-90 / 7-1-90
Est. cost: $6,000.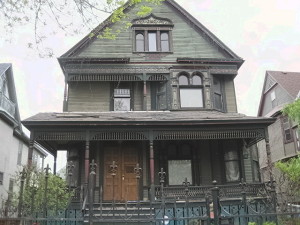 This was the home of J. B. Hudson, an important figure in the retail jewelry business in Minneapolis. Healy would build J. B. Hudson a second home on Lowry Hill in 1905. (Photo taken in 2011)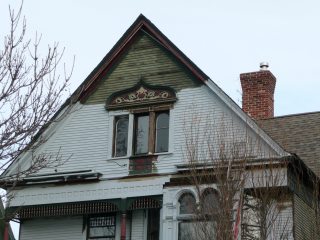 The front gable end with the distinctive cap over the triple set of gable end windows. On the second floor, note the arched stained glass transoms over the rectangular window in the bay.
Note by owner David Piehl: All of the jewelled glass windows in my house were stolen when it was vacant prior to my ownership…with documentation provided by Andy Gage, they were reproduced by Century Studios to look as close to original as possible(remember that Century Studios makes the finest Tiffany reproductions, experts have trouble telling they aren't original). The piano window had been missing for so long that we had no documentation on it, same with the second floor arched windows. The piano window was created using a design Robert Quene created, and I bought a set of antique windows from Keith Miller that fit the 2nd floor; the person Keith purchased them from claimed to have salvaged them from a house across the street before the demolitions to make way for "progress".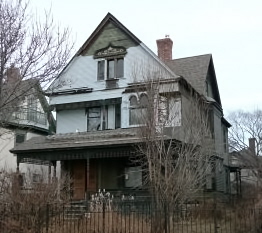 The house with new paint job under way (Photo taken in 2012)

From 1890-1892, T. P. Healy builds the Queen Annes that we think of as his classics. My records show that he built 30 houses and a couple of barns during this three year period. Six of these houses have been wrecked, four for I-35. Minneapolis's population had nearly quadrupled in the 1880's; it was still growing. Twenty-three of these houses were built by Healy on spec; seven were built for clients. Only two were designed by architects; Healy designed the rest. Nationally, the American economy was heading for a bubble and a crash in 1893.

The building record for T. P. Healy reflects 15 houses and a barn built in the 1880s after his arrival here in 1885. Seven of these houses have been demolished, six by the construction of I-35 in 1959-60. There are undoubtedly more houses built by Healy during this period that have not been found. They may have been demolished. They would likely be in the Central or Whittier neighborhoods, or the Lake Street corridor from 28th St. to 31st St. If anyone reading this page is the kind of person who likes to dig through City building records, go find some more Healys.
–A.C.