Permit information:
3101 Second Ave. So.
30 x 60 Wood dwelling
Owner: T. P. Healy
Architect:
Builder:
B23331
8-23-90 / 11-1-90
$6,000.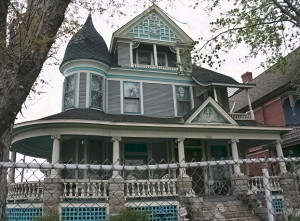 Originally the residence of Dr. Rufus H. Lane, this Queen Anne is o
ne of the most visible Healys, well known by people exiting 35W at 31st Street.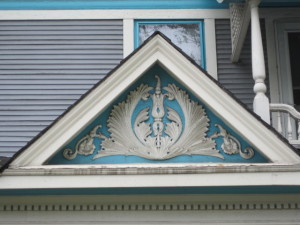 Detail over the porch entrance
The entrance has classic double solid doors. The classical porch columns, dentils, and this appliqué decoration look like a very early attempt to neo-classicise a Queen Anne. Healy built a house on the southern corner of this block the previous year. He seems determined here to show us everything he's got.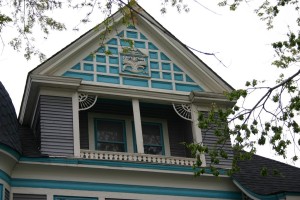 The third floor enclosed porch, with detailing above echoing design above entrance. The paneled gable end is similar to that of 2936 Portland, built the same year.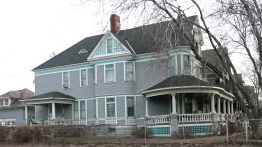 Back porch on the side, eyebrow dormer curved bay under northside gable end (probably with both curved glass window sash and curved glass storms, curved wraparound front porch, corner tower with a bell roof, and that is just the north side.

The trees in front protect this house from the western sun in the summer and help absorb the noise of 35W.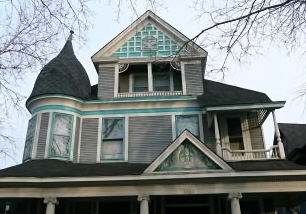 Third floor porch below paneled gable end, the corner tower with the bell roof, and the second floor porch with the cat-slide roof.