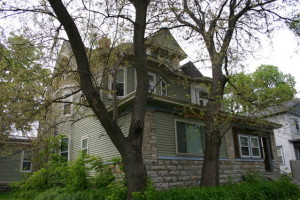 The Orth House, 2320 Colfax Avenue South
On Friday, May 24th, the saga of the house at 2320 Colfax Avenue South reached a dramatic conclusion: Minneapolis City Council voted 13-0 to uphold the determination of the Heritage Preservation Commission that 2320, also known as the Orth House, is an historic resource. Gary Schiff (9th Ward), chair of the Council's Zoning and Planning Committee, which had heard the owner's appeal to overturn the HPC's ruling, said that he hoped the unanimous vote would herald "a new era of preservation" for Minneapolis.
The Council's ruling came at the end of a process that has been confusing to many, even those at City Hall. The drama began in March when staff for the City's Community Planning and Economic Development Department issued a demolition permit for the 1893 house, designed and built by master builder T.P. Healy, to clear the land for Michael Lander's proposed apartment building. Anders Christensen of the Healy Project appealed to the HPC, which at their April meeting voted 8-2 to declare the house an historic resource, halting demolition. In turn, Mike Crow, owner of 2320, appealed to the Council's Z&P Committee, which heard his appeal on May 21st.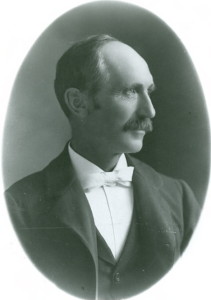 Theron Potter Healy
At the Z&P meeting, those supporting and opposing the demolition of the house presented their respective cases. First to speak was John Smoley, a City planner who works with the HPC. He argued that Council should overturn the HPC's determination and issue a demolition permit. Smoley said that there are "better remaining examples of Healy's work" and that the City considers historic designation for properties based on the rarity of the works of those who designed them.
When Smoley compared 2320 Colfax to a similar house Healy built the next year on Lowry Hill, 7th Ward Council member Lisa Goodman said, "I don't think it's fair to compare houses on Lowry Hill with houses in Lowry Hill East. Lowry Hill has had this very tight R1-R2B zoning so that houses were not able to be converted into 15-unit rooming houses."
Next to speak for demolition was appellant Mike Crow. Crow said that the house had received "extensive fire and water damage" from a 1991 blaze, and that most of the original exterior and interior was gone. Crow said he had been trying to sell the house for the past five years, but was unsuccessful because "nobody wants a rooming house and there's nothing left to restore."
Amy Lucas of Landscape Research, a consultant for the developer, testified that there are "many examples of this design and form" in Minneapolis. She looked at criteria for designating landmarks for the National Register of Historic Places, and found that 2320 does not meet these. Noting the changes to the exterior and interior of the house, Lucas said that Healy would not recognize the house he built if he walked by it today.
Also speaking for demolition were Wedge landlord William Rose, commercial real estate broker Tom Dunn, and Judy Harris, manager of Roger Handevit's rooming houses. Harris argued that the move to stop demolition was "not about giving a building historic designation," but the "first weapon in a war to stop any changes" in the way of new development.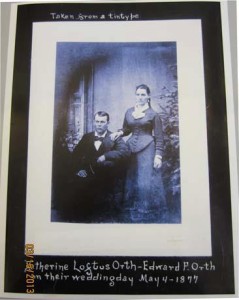 Edward and Catherine Orth, first owners of 2320
Anders Christensen of the Healy Project led the opposition's testimony with the slide show he had presented to the HPC, arguing that 2320 represents a turning point in Healy's career. "The Orth House is an original design created in a time of crisis and change," Christensen concluded. "Healy is our civic master builder."
Marlee MacLeod, who lives on the 2400 block of Colfax, said that "the condition of the house is not owing to the [1991] fire, but to the decisions the owner made afterward." MacLeod questioned Lucas's application of National Register criteria for designating historic landmarks to a property that has been declared an historic resource, noting that there is an important distinction between the two.
Brian Finstad of the Healy Project pointed out that the significance of the Orth House to Healy's design career was noted in a 1981 Twin Cities magazine article on Healy based on Christensen's research. "It's not like this case came up, then we started making a case that it was significant."
Minneapolis resident Nicole Curtis of the DIY show, "Rehab Addict," addressed the environmental impact of demolition. Curtis said that if the house were demolished, noncompostable materials filling "at least 50 thirty-yard dumpsters" would be going to a landfill. Curtis added, "What attracted me to the 10th Ward wasn't the 1960's apartment buildings or the 2,013 fancy buildings. What attracted me was the idea that this was a city based on history. This was a city based on preservation." As for the claim that Healy wouldn't recognize 2320 as his own, Curtis responded, "Are you kidding me? I would identify a house I put my heart and soul in."
House mover John Jepsen added that the house is structurally sound, "built of old growth timber. . .perfectly straight and true. It should be saved."
After the hearing was closed, Schiff moved to deny the owner's appeal. Holding up a thick folder containing letters to the committee, Schiff said, "I can't remember when we've had such a substantial amount of feedback from the general public, overwhelming testimony in support of 2320."
The committee voted 5-0 to approve Schiff's motion.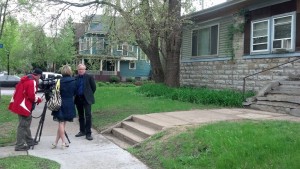 Anders Christensen being interviewed in front of 2320 by KARE-11 TV reporter Lindsey Seavert after the Z&P appeal hearing May 21st.
At Friday's full Council meeting, Schiff called for a change in direction in city planning, saying that not only the most important architecture, but all existing Healy houses are a resource that should be preserved. "This is a market-building approach that recognizes that the most unique thing the City has is the historic nature of our houses and the age of our housing stock," Schiff said. "We need to send a message to the next generation that there's nothing greener than an existing home."
Z&P co-chair Meg Tuthill added, "We have a boatload of beautiful turn-of-the-century architecture that has been ripped down in the past 40 years." She urged the City to consider all older homes a resource. "I don't care if they're divided into four-plexes or six-plexes. . . .Save history, don't send it to the landfill."
Note: This article is from the June 2013 issue of The Wedge newspaper.
–T.B.
Celebrating Healy's 169th birthday on May 14th at 3139 Second Ave. on the Healy Block. r-l: Trilby Busch, Sid Korpi (homeowner), Marjorie Holley (neighbor), John Cuningham (Healy's great-grandson, owner of the Bennett-McBride House), Peter Holley, Anthony Kaczor (homeowner), Anders Christensen.