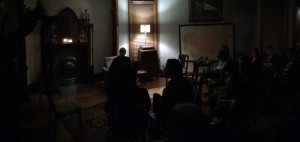 On the evenings of October 23rd and 24th, guests gathered in a restored 1892 Queen Anne house in Lowry Hill East to hear folklorist Trilby Busch tell ghost stories. Owners Christina Langsdorf and Ezra Gray staged the house with creepy Halloween accoutrements and set out trays of "mummies", "ghosts", and candy as refreshments.  The storytelling itself was lighted only by candles and a single lamp.
Trilby retold ghost stories she has collected about houses in Minneapolis, St. Paul, Duluth, and smaller towns in Minnesota. One of the stories was about a ghost who had haunted a house in the neighborhood. On Saturday night, when the storytelling ended, Christina announced that their eight-day clock in the front parlor (which had been wound up that afternoon) had stopped short of 8:30, as Trilby was telling this story. The clock had worked perfectly for years without stopping. Had the ghost dropped by to alert them that he is still around?
–Event photographs by Richard Mueller
–Decoration photographs by Christina Langsdorf.