On December 17th, an article in the Minneapolis Star-Tribune, "Minneapolis Sees High Density Future," proclaimed in its opening sentence, "Minneapolis, the city of the single-family home on a tree-lined boulevard, sees its future in the apartment towers rising 20 stories above busy downtown streets." The article quotes the city's director of community planning and economic development, Jeremy Hanson Willis: "If we're going to compete in the 21st century as a competitive global city, we have to attract people who want to live in cities. And cities are dense, urban environments." (Has Willis ever seen a city with a rural environment? I hope not.)
High-density housing: great places to live?
Much of the article is devoted to developers' comments about zoning. The gist is that they don't like being hindered by having to get variances to build lucrative (for them) so-called "multifamily apartment complexes." The message is that the City and developers can't wait to nearly double Minneapolis's population by cramming citizens into high-rise housing in the neighborhoods north of Lake Street. Higher density benefits City government by bringing in more tax revenue, while the developers will be raking in enormous profits. Architects, construction companies and trade unions will benefit, too, from the frenzy of new buildings going up.
Who won't benefit? The residents of neighborhoods redeveloped into this high-density Utopia. The planned Lander development at 2320 Colfax S. is a harbinger of the changes the City anticipates bringing to the Wedge, Whittier, and other Minneapolis neighborhoods. If the City's vision is realized, as in the bad old Urban Removal days of the 'Fifties and 'Sixties, hundreds of houses, duplexes, and smaller residential buildings will fall, replaced by 5- to 20-story apartment buildings.
Contemporary urban planning theory justifies, indeed lauds this kind of redevelopment as necessary, to borrow a phrase, for the "competitive global city." The informative word here is of course "competitive." The focus is squarely on big business. Planners and city officials alike love to see the $$$ rolling in from these new projects, and eagerly anticipate the revenue generated from it in the future.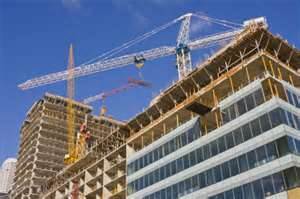 Nicollet-Lake in 2015? Minneapolis, "competitive" city of the future, cow town no longer.
The City and its planners have long touted the wonders of collaborative planning between neighborhoods and proposed developments. This collaboration, however, is purely theoretical. At the first hearing about the Lander proposal before LHENA's Planning and Zoning Committee, a sizable majority of residents at the meeting spoke out against it. The 2004 LHENA study calling for the downzoning of the Wedge north of 24th Street was cited as what the neighborhood envisioned for its own future. But we all were wasting our breath. The assumption by the City and the developer is that, thanks to R-6 zoning, the new four-story apartment complex is as good as built. So what if an historic house is wrecked and low-income tenants are displaced? This is a necessary evil to achieve the new "competitive global city" of Minneapolis.
The term "dark side of planning" was coined by Oxford professor Bent Flyvbjerg to describe this kind of disconnect between planning theory and practice. . In keeping their eyes on the starry skies of economic development for the City, planners and officials turn away from looking at the malevolent consequences of redevelopment on the people who live in the affected areas. For this reason, Flyvbjerg contends that actual urban planning practices frequently violate accepted norms of efficiency, equity, democracy, and hence, of planning ethics.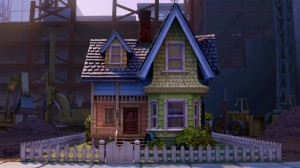 Too bad we can't lift our houses out of encroaching high density development, as did Carl Fredricksen in the film "Up" (made by Minneapolis native Pete Docter).
One need only to look at the past disasters of City planning to see what can go wrong: Cedar-Riverside, St. Anthony Main, Nicollet-Lake. I have no confidence in the assertions of R.T. Ryberg and Jeremy Hanson Willis that they know better than Minneapolis citizens what kind of city we want to live in. They are speaking for moneyed interests, not for the ordinary people who live here.
Last week I was talking to my Wedge neighbor Don, who, since buying it in 1972, has lovingly restored an 1890's Queen Anne. He remarked that when he saw the proposal to wreck 2320 Colfax and build an apartment building in its place, his heart sank. For him, for me, and for the many other long-term Wedge residents who fought the development and zoning battles of forty years ago, this new thrust of City planning is like a nightmare come to life. After decades of quiet, neighborhood residents are going to have to organize against high density development, or accept the consequences. If you want to save the old houses of the Wedge, speak now or forever hold your peace–for once they're gone, they're gone.
Wow, am I glad that the developer took down that nasty old house made from Minnesota virgin timber so it can be replaced with a new, clean, "green" apartment building made of concrete, particle board, and sheet rock.
Next: An interview with visiting officials, city planners, and architects from Gopher City, MN (with a nod to Sinclair Lewis)
–T.B.