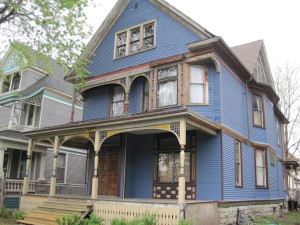 A relatively plain Healy Queen Anne set between its more elaborate neighbors. According to Madeline Douglas, the current owners, the Mauris, have brought this house back to life. Master Carpenter Peter Holly, who lives on the Healy Block, has restored the porch woodwork to its intricate original glory, as he has so many other Healys.
Permit information:
3107 Second Ave. So.
30 x 50 Frame dwelling
Owner: T. P. Healy
Architect:
Builder:
B24747
3-30-91 / 6-1-91
Est. cost: $5,000.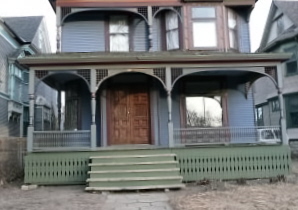 This photo shows the porch restoration by Peter Holly. 

The porch and entrance reveal the elegance of Healy's design: the delicacy of the posts, railings, and upper trim, the classic double entrance doors, the skirting, the curved window, the elaborately trimmed main window. 
  1890: One world passing away; a new world being born. John Henry Cardinal Newman, a leader of the Oxford Movement, died (b. 1801). Artist Vincent Van Gogh died (b. 1853). Composer Cesar Franck died (b. 1822). Russian statesman V. M. Molotov born (d. 1986). American general and president Dwight D. Eisenhower born (d. 1969). French soldier and statesman Charles DeGaulle born (d. 1970).
Formation of the American Tobacco Company, after a price war among cigarette companies, created a monopoly organized by James Buchanan Duke. Duke later created similar monopolies for plug tobacco and snuff. Ultimately he established the Duke Endowment, principally for the benefit of Trinity College in Durham, N.C., in 1924 renamed Duke University.
Aug. 6: The first electrocution took place at Auburn Prison, Auburn, N.Y. The executed prisoner was William Kemmler of Buffalo, who had been convicted of the hatchet murder of Matilda "Tillie" Ziegler, his common-law wife, on Mar. 28, 1889. The execution was botched. George Westinghopuse, Jr., reported: "It has been a brutal affair. They could have done better with an axe."
(To promote his advocacy of electrocution as an ideal way of execution, Thomas Alva Edison went around the country publicly killing elephants and other animals by running an electrical current through them.)
The existence of urban slums was well known by many, but it was not until the publication this year of "How the Other Half Lives" by Jacob Riis, a Danish-born New York City Journalist, that the reality of the miserable lives led by thousands in the slums was brought home to the general public. The book triggered efforts to alleviate these conditions by improving labnor conditions and instituting building codes. In his book Riis cited facts and figures and told of his experiences in the slums. Battling alone at first, Riis gained many supporters and found a powerful ally in Theodore Roosevelt. He also made enemies of landlords and politicians who were profiting from the slums.