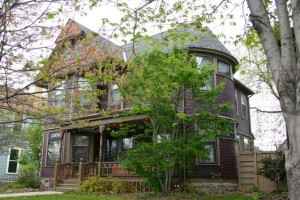 3139 Second Ave. S, the second house Healy built (1886, $3,500)

To receive notices about future tours and events, e-mail info@healyproject.org.

+ + + + + + + + + +
The Healy Project is celebrating its incorporation as a nonprofit with a tour of the Healy Block Historic District on Sunday, November 10th.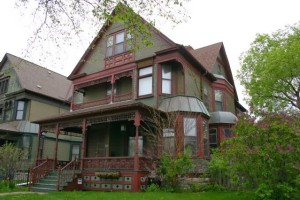 The Rea House in the Healy Block Historic District (1890, $5,000)
Motorists exiting northbound I-35W at Lake Street can't help but notice the Queen Anne houses on Second Avenue, arguably the best known Victorian houses in Minneapolis. These fanciful survivors from a bygone era were designed and built by Theron Potter Healy, Minneapolis's premier master builder. The entire west side of the Second Avenue block was wrecked in the 1960s during freeway construction. Over the years, fires, poor maintenance and redevelopment have taken others.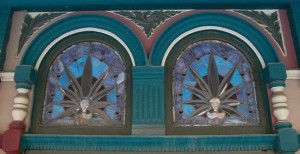 Healy's signature double-arch windows.
Built between 1885 and 1898, these surviving houses, listed in the National Register of Historic Places, have endured thanks to the efforts of a small, but dedicated community. On Sunday, November 10th, the Healy Project is offering a different kind of home tour showcasing the community that has served as advocate for the houses of the Healy Block Historic District (3100 block of Second and Third Avenues).

The Healy Project's inaugural tour aims to highlight and support the efforts of this community. Tourgoers will not only get the usual background into the houses' architecture and history, but also background on the economic, cultural, and political forces affecting their past and future. Experts on real estate, community action, and historical research will talk about architectural preservation in the contemporary, living city.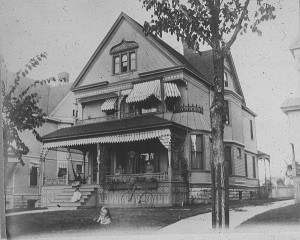 1890's photo of the J.B. Hudson House (1890, $6,000)
Preview of tour attractions: Background about the history of the Block and the struggles of homeowners in the neighborhood. The context of the Block in the Central neighborhood. A look at so-called "Undercover" Healy block (3200s Second Avenue), contrasting the houses there with the protected houses in the historic district. Healy homeowners' success at saving other houses on adjoining blocks from demolition. An explanation of how a large Healy carriage house was lifted and replaced on its foundation. A look inside three early Healy-designed Queen Annes (built 1886, 1890 and 1891) on the Block. Information about a MnDOT plan that seriously threatens the entire Block. And more!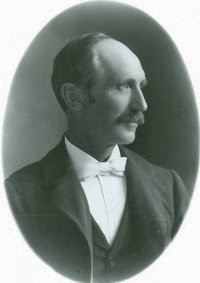 Theron Potter Healy, King of the Queen Anne
Registration is required to tour house interiors.
Tour-goers should assemble in front of 3139 Second Avenue South at 1 p.m. on the 10th. If you would like to

see the

interior of 3139, come

earlier.

Doors open at 12:15 p.m. A $10 donation to the Healy Project is suggested.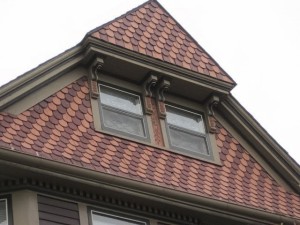 Fishscale shingles on the gable end of 3139 Second Ave.