My dad used to eschew visiting cemeteries on Memorial Day, saying, "Life is for the living." Well, he's gone now, so I assume he doesn't mind that I wore his watch (in his memory) during my visit to Lakewood Cemetery today.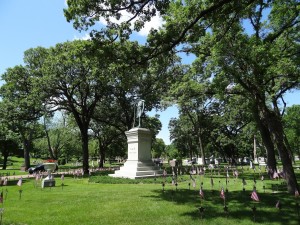 The Civil War monument at Lakewood Cemetery, where the memorial service, with a speech by Gov. Dayton, was held today.
Years ago, my family would go to Lakewood on Memorial Day to place flowers from the garden on the graves of family members who once lived in our house. We had no relatives' graves to visit in Minneapolis, so we adopted the Beardsleys, if only for a day. As we learned more about local master builders through researching the history of houses in the neighborhood, we added to our Lakewood visits a trip to the grave sites of the three most prominent of them: T.P. Healy, Henry Ingham, and Henry Parsons. (When we eventually found and contacted the descendants of Ingham, his granddaughter remarked, "So you're the ones who have been putting flowers on Granddad's grave!")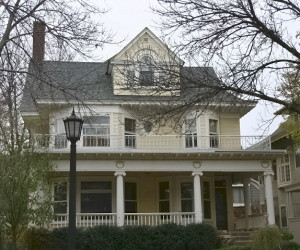 1712 Dupont Avenue South: An 1897 Healy house whose exterior hasn't changed much over the last century.
It being such a fine day, I decided to go to Lakewood and visit the graves of the master builders this morning. As usual on Memorial Day, the little lanes of the cemetery were clogged with cars, pedestrians, bicycles, and motorcycles, but it didn't take me long to get to the Healy family plot in Section 9, not too far from the entrance. There, at the base of a big elm is the last repose of T.P., his wife, and two young sons. The marker says simply, "Theron P. Healy, 1844-1906." A vase full of flowers by the marker told me that I was not first to make it to T.P.'s grave today. (When I got home, I discovered that Madeline Douglass had preceded me to the spot, bearing the bouquet.) Having no flowers, I spied a crow's feather that had fallen in the grass nearby and placed that on the marker. Somehow it seemed fitting, crows being wise and always cloaked in black. Just as I framed the shot on my camera, a caterpillar inched its way across the marker. That too seemed fitting: Life going on, oblivious to the dead.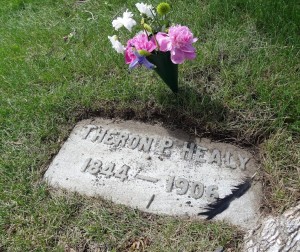 The marker, with caterpillar and feather.
Then I went on to Ingham's grave in Section 26, and Parsons' in Section 21, both on the outer edge of the cemetery. I regretted not bringing flowers for them, especially for Parsons, who died without leaving descendants. Next year.
It might seem a bit daft to commemorate people with whom one has no apparent connection. But those of us who admire the work of these builders, who live in their houses, who appreciate their artistry and craftsmanship do have a connection with them. We remember the builders because their works are manifest on the streets of the city.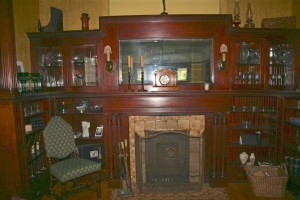 The fireplace nook in a beautifully preserved 1894 Healy Queen Anne.
Some of these houses are not recognizable as what they were when they were built. Others have been restored or preserved so they strongly resemble what they were a hundred years ago or more. Yet others are teetering on the abyss of urban removal, torn up, beat up, and abused, barely fit for habitation. That's why it's important to remember and celebrate the builders and their buildings. Enjoy what you have while you have it. You never know when a developer, schlockmeister, bad wiring, or lightning bolt will bring one down.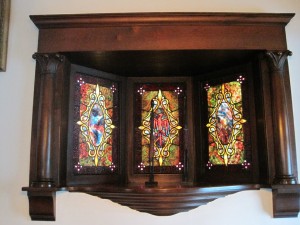 The stained glass windows on the staircase landing of an 1899 Healy house.
The original tiled floor in the vestibule of another 1899 Healy.
On Memorial Day we thank T.P. Healy, Henry Ingham, Henry Parsons, Nels Jenson, C.C. Johnson, and the other master builders and architects who created the old houses that we live in or pass by every day on the streets of Minneapolis.
Let me conclude with my favorite quote about builders and their buildings from the "Lamp of Memory" section (appropriate for Memorial Day) of John Ruskin's 1849 work, The Seven Lamps of Architecture:
When we build, let us think that we build forever.
Let it not be for present delight nor for present use
alone. Let it be such work as our descendants will
thank us for; and let us think, as we lay stone on
stone, that a time is to come when those stones
will be held sacred because our hands have
touched them, and that men will say, as they look
upon the labor and wrought substance of them,
"See! This our fathers did for us."
I think Healy and the others could relate to that.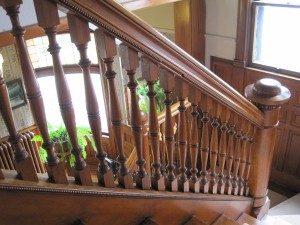 Staircase spindles in an 1895 Healy.
–T.B.