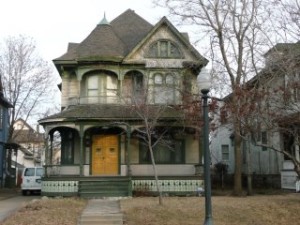 This is my favorite Healy house. Healy's development of the Queen Anne is the balancing of a variety of elements, the circular and the rectilinear. This house seems to melt from one section to another. A.C.
Permit information:
3111 Second Ave. So.
Owner: T. P. Healy
Architect:
Builder:
B25565
6-10-91 / 9-1-91
Est. cost: $5,000.
Detail of front porch, with the classic double entry doors. For everyone who has been here, this is the spiritual center of the Healy Block.
The front gable end with half-round window and fishscale shakes.



The link above will take you to an article about Marjory Holly, longtime owner (with her husband Peter) of this house.
-A.C.