What a difference two weeks makes.  Earlier this month, a salvage company began removing architectural components of the Healy house at 2320 Colfax Avenue South in preparation for its demolition. The number of architectural items that came out of that house stunned even those of us who had never believed that nothing was left of Healy's original 1893 house: fireplaces, doors, millwork, tiles, stained and leaded glass.  The items salvaged are now for sale on City Salvage & Antique's web site, marketed for the exquisite art they are, worth a small fortune.
A subcontractor of City Salvage on December 5 reported: "They wisely got the glass out first. They were busy tonight removing the raised-panel cherry wainscoting from the entry hall and stairs. The oft-discussed original first floor front facade is in fact still there, hiding inside the enclosed porch. Bay windows and bow window side by side, both intact inside and out. They also found a covered ox-eye window on the north wall of the second floor.
All the large doorways communicating 2320's entry hall, parlors and dining room, each of which had been filled in with drywall and cheap hollow interior doors [by owner Mike Crow], were found still to have 6′-wide, paneled sliding doors hanging intact in their pockets. The Healy signature tile floor uncovered in the vestibule is being removed, destined for re-purpose as a table top."
These are all things that demolition proponents, including  the developer, the owner's broker, and two preservation experts, claimed repeatedly weren't there– before the neighborhood association, the Heritage Preservation Commission, the Minneapolis City Council, and, under oath, before District Court.
Photos and video taken on the second floor of 2320 last week and presented in District Court shows that owner Michael Crow gave misleading testimony, repeatedly claiming that the second and third floors were gutted in the reconstruction after the fire in 1991. The details revealed by the salvage operation show his claims to be false. Tom Dunn (real estate broker) of Terra Firma Commercial, the Lander Group (developer), Amy Lucas (historic preservation expert), and City Planner John Smoley all repeated this false testimony. Did they know it to be false or did they fail to do their due diligence?
Anders Christensen and Trilby Busch went on record 43 years ago (November 1981 Twin Cities Magazine article Legacy of a Master Builder) contending that 2320 Colfax is an important part of Healy's architectural legacy. This claim was made long before the house was threatened with demolition.
In April of 2013, owner Michael Crow told the Minneapolis Heritage Preservation Commission that "everything on the second floor was completely gutted. . .There just isn't much of the house left."
Smoley repeated Crow's misleading testimony: "The interior has been completely lost." Lucas echoed this, saying, "I don't know if any of you have been in the house but when it burned, the second and third floors burned completely. So they were rebuilt as small rooms upstairs, so there are sheet rock walls and metal doors." Dunn summed up these comments with, "There just really isn't anything worth saving in the building." Despite these assertions, the HPC declared 2320 an "historic resource." In May of 2013, the City Council upheld this decision.
However, after the 2013 election, Michael Crow came back to City Hall singing the same tune, but this time to more receptive ears. In March 2014 on a motion by chair Lisa Bender, the Zoning and Planning Committee granted Crow a demolition permit for an historic resource.
Last May, the Healy Project filed suit in District Court to stop the demolition of this historic resource. The case never made it to the trial stage. The Healy Project failed to get a temporary restraining order (TRO) in large part because Crow, Dunn, Smoley, and Lucas once again repeated the false claims initiated by Michael Crow. Since then, the suit has remained on the docket, minus an injunction against demolition.
After the recent revelation that the vast majority of the interior and exterior of the house was intact, the Healy Project decided to revisit the lawsuit. On Friday, December 19th, attorney Erik Hansen appeared in District Court before the Hon. Frank Magill, Jr. to request a TRO, based on the documented revelations of the salvage operation.
Bethany Gladhill, a credentialed expert on historic preservation, testified that in her professional opinion 2320 would be eligible for listing in the National Register of Historic Places, especially if it were included in a Multiple Property Listing of Healy houses in Lowry Hill East. She called 2320 a "transitional" Healy house, in fact, the "lynchpin" in that  transition of designs. In her opinion, 2320 has strong integrity of place, of workmanship, and of materials. She respectfully disagreed with several of the findings and the conclusion of Amy Lucas's report.
Michael Crow's attorney Steven Harris said the closing between Michael Lander's development company and Crow is set for Tuesday. It will be Michael Lander's responsibility to demolish 2320 and the neighboring house at 2316. Crow will receive $950,000 for both properties; Harris requested a bond in that amount if the TRO is granted. A ruling is expected on Monday, December 22nd.
Did Crow lie to his attorney, or did his attorney lie to the judge in expectation of getting a $950k bond in case the judge issued the TRO? Or is there another explanation of these conflicting reports? Did the closing actually take place on the 22nd? Inquiring minds want to know. T.B.]
The next two posts provide detailed documentation of the series of misrepresentations in the testimony of Crow, Dunn, Lucas, Smoley, and the Lander Group throughout the two-year-long series of hearings regarding 2320 Colfax.
"There is only a negligible amount of original trim inside, which is really not worth saving, there's nothing special about it." Tom Dunne, President, Terra Firma Commercial, Real Estate Services
"Fires in 1991 and 2011 have left very little interior fabric." Amy Lucas, Principal, Landscape Research
"Over 75% of the original materials in the home have been replaced due to extensive fires and insensitive remodeling." Lander Group Development Team, submitted by Collage Architects.
If the above evidence doesn't convince you that this whole process was poisoned from the start, here are some more statements presented to decision-making bodies, courtesy of Brian Finstad:
"There is not one single room that is in its original state. The only two rooms that are the most intact in the entire building are the foyer or entry and the original living room with fireplace."
– Mike Crow – Colfax Addendum – 8 Jan 2014

"Besides some wood door frames there is little original fabric at the interior."
– Amy Lucas, Landscape Research – Report to Pete Keely – 14 Dec 2012

"The interior has been completely lost with the rooming house conversion and fire repairs."
– Amy Lucas, Landscape Research – Report to Pete Keely – 14 Dec 2012

"Fires in 1991 and 2011 have left little interior fabric . The second and third floors have been completely rebuilt"
– Amy Lucas, Landscape Research – Report to Pete Keely – 14 Dec 2012

"As is common knowledge, the property has endured a number of fires throughout its history with the last fire essentially removing the upper two floors."
– Assessment of Economic Feasibility of Rehabilitation – Tom Dunn, Terra Firma Commercial – undated

"There is only a negligible amount of original trim inside, which is really not worth saving, there's nothing special about it. There is one noteworthy concave window on the north side that will be saved, along with a fire place and whatever else there is of value."
– Assessment of Economic Feasibility of Rehabilitation – Tom Dunn, Terra Firma Commercial – undated

"… the home is nothing close to the original construction. Over 75% of the original materials in the home have been replaced due to extensive fires, and insensitive remodeling."
– Letter to HPC – Lander Group Development Team; Collage Architects – 17 Feb 2014

"Nearly all of the construction above the first floor and most of the first floor are not Healy constructed components as these have all been replaced… The second and third floors of the structure were gutted down to the studs… nearly all architectural integrity was removed from these two floors …over 70% of the first floor was changed."
– Letter to HPC – Lander Group Development Team; Collage Architects – 17 Feb 2014

"Fire has gutted the top two floors. Approximately 600 sq.ft. of the total interior has any remains close to the original… There is a fireplace covered with newer construction."
– Letter to HPC – Lander Group Development Team; Collage Architects – 17 Feb 2014

"The developer will take steps toward preservation. A full photo-documentation of the property interior and exterior will be completed."
– Letter to HPC – Lander Group Development Team; Collage Architects – 17 Feb 2014

"The second and third floors were burned and the 1992 rehabilitation removed flooring, walls and doors. The plan of the upper floors was also changed during the renovation."– Historic Evaluation – Amy Lucas, Landscape Research – Mar 2014
Update: On 12/31/2014 KSTP-TV aired a story on 2320 Colfax, featuring an interview with Anders Christensen. To view the story, click here.
–T.B., C.A.C.
Combining old and new buildings in adaptive reuse is a practice that Minneapolis has not embraced yet.  Minneapolis lags behind many other cities, especially those on the coasts and in Canada, in saving old buildings by incorporating them into new construction. (See some examples of adaptive reuse here.) Developers in Minneapolis assert that adaptive reuse is "economically unfeasible", and that it's necessary to demolish existing houses in order for them to get the profit they require. On the other hand, some preservationists dislike combining old with new, insisting that the building (whatever it is) be preserved in its original configuration. However, if the building cannot be saved in its first or second incarnation (for example. as a single family home) adaptively reusing it with new construction is the green, economical, and smart choice.
In Minneapolis, the City has consistently taken the opposite course, approving wrecking permits for perfectly good buildings so that developers can maximize profits.  On August 13, on behalf of the Healy Project, architects Peter Kim and Bob Roscoe presented a new idea to the Lowry Hill East Neighborhood Association's Zoning and Planning Committee for redevelopment of the properties at 2320 and 2316 Colfax Avenue South. Their idea is offered as an alternative to the Lander Group's proposed 44-unit, three-story apartment building that requires wrecking the historic Orth House at 2320 and the house next door at 2316.
"This design incorporates the existing two historic homes on the property. It is extremely important to the residents and neighbors of Colfax Avenue that the two historic properties be kept, rehabilitated and incorporated into the proposed design at this location. A modern blending of materials can be utilized while at the same time remaining sensitive to the nineteenth century use of wood, shingles, and decorative elements found on the original buildings. A plan that utilizes historic houses as a triplex with additional urban housing units that is sensitive to the urban fabric and to architectural language. Compared to the proposed development, this idea preserves street appearance and contains 72% of the number of proposed units. The Healy Project contends that utilizing historic buildings in this location will contribute to both the economic and cultural aspects of development in LHENA."–Introduction to Alternate Idea for 2320 Colfax.
Roscoe and Kim's plan provides for 32 units: 1 bedroom 18 units; 2 bedroom loft 6 units; 2 bedroom + 8 units. Total 32. It provides for 30 parking spaces: Basement 24, Off Street 6. The new apartment building is placed behind the two existing houses, which would be rehabbed and incorporated into the new housing development.
To view the plan, click here: 2320-Draft2
The first part of the Wednesday meeting was the presentation of the Lander apartment project's most recent "tweaking", with zoning variances, by Collage Architects. Apparently completely uninterested in any proposal involving preserving the house, after Collage's presentation, CM Lisa Bender and all the other Lander proponents walked out of the meeting. Only Wedge developer Don Gerberding remained for Roscoe and Kim's presentation.* It's a sorry situation when City officials are so bound up in the same old, tired models for development that they can't bother even to consider the new.
If the property at 2316-2320 were a vacant lot, there would be no controversy.  New development would be completely appropriate.  But it is not vacant land, and the houses to be destroyed, especially the Orth House, can never be replaced. (See blog post, "Greenwashing Demolition.") When will the City stop favoring new, big apartment development, and start looking at the old buildings that make Minneapolis Minneapolis? Apparently not as long as the current City Council and Mayor are in office.
*Note: Gerberding currently has a controversial proposal in the works to redevelop the northwest corner of Franklin and Lyndale Avenues in the Wedge. The day after this presentation, an article in the Minneapolis Star-Tribune reported that Gerberding has defaulted on a $400,000+ loan from the City from 2008, and the City is looking into suing him.
–T.B.
Note:
The article below appears in the April 2013 edition of The Wedge, neighborhood newspaper of Lowry Hill East. I wrote it as a report. After the article I've added some editorial comments.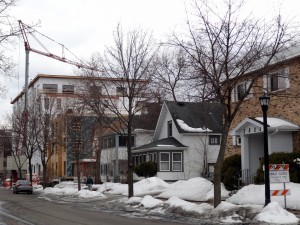 The west side of the 2800 block of Colfax Ave. S in the Greenway: a 1970's 2-1/2-story walkup, three

modest-sized

houses, and two apartment buildings under construction.
Bisected by high-traffic streets, Lowry Hill East is divided into three sections by zoning designations: the area south of 28th Street, the large section between 24th and 28th Streets, and the apex north of 24th.

Each of these sections has a distinctive character and its own set of concerns.

While there is no way to distinguish between the demographics of each section, looking at the Wedge as a whole in comparison to the greater city sheds some light on a major issue facing the neighborhood currently and in the future: redevelopment of the Wedge apex north of 24th Street.
The most recent source of demographical data is the 2010 census, which shows the population of the Wedge to differ significantly from that of the city of Minneapolis.* The Wedge has a higher percentage of white residents (84% versus 60%), residents 18-44 years of age (78-50), structures with two or more units (91-50), renter-occupied units (83-

51), residents with a bachelor's degree or higher (62-43), and persons living alone (59-40).

On the other hand, the Wedge has fewer households with children (15-44), owner-occupants (17-49), householders over 65 years of age (3-8), and residents under 18 (5.5-20).
While the median income of Wedge residents is about 4% less than the city's ($43,922 versus $45,625), the income of the majority is centered around the median, with fewer on the high end.

Only 17.5% of Wedge residents make more than $3,333 per month, as compared with 54% citywide; on the other hand, 43% of Wedge residents earn less than $1,250 monthly, as opposed to 18% citywide.
From 1990 to 2010, the population remained fairly stable, 5,933 versus 6,150.

But the Wedge has a huge turnover in residents from one year to the other, 40% versus 24% citywide. More than half of Wedge residents (54.5%) moved into the neighborhood in 2005 or later, compared with 37% citywide.

Only 2.7% (versus 9% citywide) called the Wedge home prior to 1979. Not surprisingly, renters outnumber homeowners about 5:1.
Those are the demographics of the Wedge as a whole as of 2010. While we don't know demographical differences in the three Wedge sections, we can look at what distinguishes them physically. The southernmost section is currently undergoing significant changes. Formerly an industrial corridor along railroad tracks, the area south of 28th Street is being transformed into a high-density residential area of apartments, condos, and townhouses.

The total number of new units under construction (839) and already built (1,061) south of 28th Street is 1,890. Assuming that each unit will house 1.5 residents (the current Wedge average), these nearly 2,800 new residents will swell the current population of the Wedge by 47%, and constitute about one third of the total population.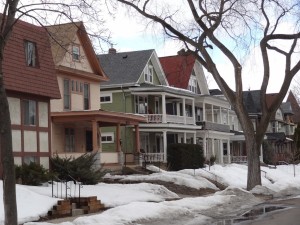 The west side of the 2600 block of Colfax Avenue S: two large 1960's apartment buildings and turn-of-the-century houses
The interior of the big section between 24th and 28th Streets is largely comprised of pre-World War I houses and apartment buildings, with two-and-a-half-story walkup apartment buildings scattered among them. After its 1970's downzoning to lower density, the Wedge middle has remained the most stable area, with the vast majority of residential buildings being occupied as they were thirty years ago.

This section is home to most of the residents who have lived in the Wedge the longest.

It has the most duplexes and single-family houses.

This section, however, is cut in two by a major traffic artery (26th Street), and of the 28 blocks here only 12 whole blocks are zoned R2B.
The northernmost section, the apex north of 24th Street, is the smallest.

In the first half of the 20th century, large houses, a school, and a church occupied this area.

Some of the houses were used as student housing for this school and for the Dunwoody Institute. After the middle section was downzoned, high-density zoning remained in place for the Wedge apex. This writer's count of the structures located in the area between 24th and Franklin revealed the following distribution: 5 pre-WWII apartment buildings; 19 post-WWII apartment buildings; 14 houses with 4 or more residential units; 60 houses with 3 or fewer units.

Today a half-dozen single-family homes north of 24th Street are in R2B zoning, but the remainder is zoned for commercial or high density residential.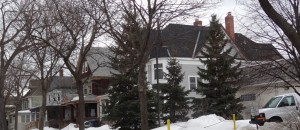 The west side of the 2300 block of Colfax Avenue S: the back of the funeral home parking lot and four 1890's houses, three of them built by T.P.Healy, all currently rooming houses.
Because of this high-density zoning, the apex is slated to be the next area facing big changes. Mayor Rybak and the City Planning Department have targeted the Wedge, Whittier, and other neighborhoods to the east for more high-density residential development.

When the available space along Greenway is filled, developers' attention will turn to the Wedge apex. A hint of what's to come is the current proposal by the Lander Group to demolish the houses at 2316 and 2320 Colfax and replace them with a four-story apartment building. It's only a matter of time that other redevelopment proposals will be offered to replace houses in the R6 part of the apex.

If a proposed building conforms to R6 zoning, which allows for buildings as high as five stories, it can go in without neighborhood approval.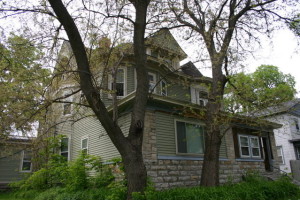 Doomed by redevelopment? The Edward Orth House, 2320 Colfax, one of two houses developer Michael Lander intends to demolish for a four-story apartment building.
The Wedge population has already seen a shift away from the number of families with children and a shift toward a greater proportion of young renters. In the coming months and years, Wedge residents will have to decide if they prefer new apartment buildings that offer many more units or if they'd rather have the 74 turn-of-the- century houses (two fewer if the Lander project is built) lining the streets of the apex.
In
2011

Council Member Meg Tuthill

requested that Community Planning and Economic Development (CPED) staff put on their work plan a review of LHENA's 2004 Zoning Study. This was proposed to preserve the mixed scale and diverse character of the neighborhood.
With the high proportion of Wedge residents being renters and a high year-to-year turnover, it's apparent that only a small percentage of residents are involved in LHENA and neighborhood events.

If you're reading this article, you probably care about what happens in the Wedge.

If so, speak your mind—or someone else will decide what changes do and don't come to pass in Lowry Hill East.
________________________________________________________________________
*See: www.mncompass.org (October 2011)
++++++++++++++++++++++++++++++++++++++++++++++++++++++++
The country is emerging from a serious economic crisis that grew out of an unregulated boom-and-crash in mortgage banking. At the moment, most people under 30 cannot afford to buy houses. Thousands of them have moved out of their parents' suburban homes to take up residence in the city. (Some are forecasting a coming crash in the suburban housing market as Baby Boomers downsize–but that's another issue). How many of these young people would prefer living in their own houses over living in high-rise apartments? I suspect that when the time comes, many of these people will decide to move into houses or duplexes to raise their children rather than staying in apartments.
The new developments in the Greenway with their thousands of anticipated new residents are a faix accompli. One aspect that the City and the developers of these so-called multifamily apartment buildings never bring up–or seem even to consider–is the distinct possibility that they are overestimating the number of people who will want to and who can afford to live in these new units. After all, the Wedge is only one of several districts in the city where thousands of residential units are going up. The banks, developers, and City are plowing ahead on the assumption that all will go as they planned. What could possibly go wrong? (Famous last words.)
Some of what I found in researching this article surprised me–for one, the huge turnover in Wedge residents every year; for two, the high percentage of college-educated residents; and for three, the large percentage of residents who will live in the new Greenway buildings when all are completed.
I am part of a very small percentage of Wedge residents who moved in pre-1976. In another twenty-five years, most of us will not be living in the neighborhood (if we're living at all). The neighborhood will inevitably undergo change. It will be up to the younger folks to decide what kind of a place they want to live in. Do they share the vision of the City for the Wedge: a small core of apartment buildings and old houses sandwiched in between two areas of new high-density residential developments, and encircled by commercial buildings and apartment complexes? Or do they think, as the neighborhood association has to date, that the scale and mix of old houses and apartments buildings, two-and-a-half story walkups and commercial that make up the Wedge should be preserved.
The battleground that is emerging is the Wedge apex north of 24th Street, an area zoned and ready for high-density development. Do we want two overbuilt "Greenways" (a misnomer if there ever was one) surrounding the surviving old houses in the neighborhood, or do we want to retain, through the changes that come with time, the distinctive character of our wonderful, diverse, funky old/new Wedge?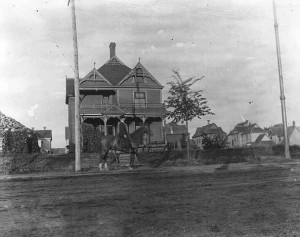 The Wedge (when it wasn't the Wedge) under development as a streetcar suburb in the 1890s, as seen from Lyndale Avenue.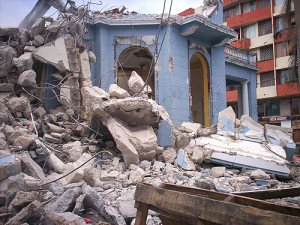 Preservation is an international issue. Des

regarding

public outrage, in 2007 the City of Panama wrecked dozens of exquisite old houses like this one, the
Castillo El Millon, in a frenzy of high-de

nsity

redevelopment.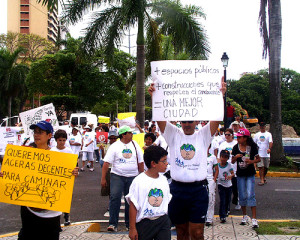 Despite losses and setbacks, Panamanian preservationists repeatedly took to the streets to protest demolitions for redevelopment.
The question I'm asked most about my comments on this blog is, "What can I do?"  When

one sees the power of the government (City officials and planners) and the wealth of the financial institutions lined up to promote and support developers, it's easy to get spun around.  Most of us, myself included, do not like to spend our valuable evenings attending hearings and meetings, especially when it seems few on the board or commission care about anyone else's opinion.  
     However, our doing nothing means that the City and the developers will proceed with their plans to redevelop inner-city neighborhoods into high-density residential, historical buildings and community opposition be damned.  The City has made this agenda clear in the Wedge, where R6 (high density) zoning remains in place, even though over the decades LHENA has made repeated attempts to downzone the affected areas to R2B.
      A common misconception is that preservation is a top-down process.  Those  who expect organizations such as the National Trust for Historic Preservation to swoop in and save the day will be sorely disappointed.  The people who care about a building or a community are the ones who must defend it. The National Trust and other preservation organizations provide communities with resources to help them articulate their positions and fight their local battles; they don't fight the battles for them.
      But there's a lot individuals can do for preservation, based on their interests and priorities.  Here are some general things you can do in the current struggle between Big and Small:
1) Acknowledge that this will be a long-term process. Historic preservation action is political. The machinery of government from planning departments to heritage preservation commissions is oiled for development.  The City has a whole stable of paid professionals standing by with their studies, plans, and regulations. In addition, the moneyed interests that are driving high density residential redevelopment will not give up without a fight.  If they're stymied with a project in one neighborhood, they'll seek another place for it.
2) Keep informed and get constant updates through the Healy Facebook page, this blog and other preservation blogs (such as that of the Preservation Alliance of Minnesota) and by reading local newspapers.
3) Spread the word to friends, colleagues, and neighbors about what's going on.
4) Speak out by attending meetings and/or communicating with city officials by e-mail, letters, or phone calls.
5) Network. Make alliances with like-minded people and groups regarding preservation issues important to you. Recruit people with special skills (organizers, attorneys, architects, business leaders) to join the alliance.
6) Concentrate on the task at hand: slowing the high-density juggernaut. Set aside political differences with allies on unrelated issues.
7) Accentuate the positive. Ignore the voices that keep saying we can't win.
8) Enjoy what we have now.  Celebrate community in our Minneapolis neighborhoods.
9) Serve on committees dealing with zoning and planning, or, if this is not your thing, go to important hearings that affect your neighborhood.  On January 30th, the LHENA Z&P Committee has scheduled the first of a number of meetings revisiting R6 zoning in the Wedge. This is a good opportunity to speak out on the issue.
10) Volunteer as an on-the-ground soldier.  The best way to combat the half-truths and false allegations by City officials and developers is to have command of the facts. For example, the North Wedge Historic District group (on Facebook) needs people to research its architectural and social history, photograph the buildings, and collect stories from residents.
11) Work to elect officials that support their communities, not moneyed interests.   Mayor R.T. Rybak, a booster of high density residential development, is not running for office again.  This is an excellent opportunity to elect someone who will listen to neighborhood concerns. Also, we need City Council members who support the people who live in their wards.  Go to candidates' forums and ask what they think about these issues. Of course, they can misrepresent their positions or change their minds (as Rybak apparently has done), but at least we have them on record.
The "emergency" demolition of the historic Fjelde House on Christmas Eve, 2009, is one example of the City's stealth attacks on sites it wants to redevelop.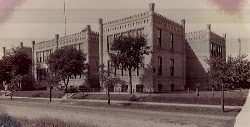 Another example is the middle-of-the-night demolition in 1975 of Calhoun Elementary School (built 1887) on what was to become the parking ramp

for Calhoun Square.

                               
–T.B.
Last week I had the pleasure to be at a lecture-discussion on development and urban planning. Featured speaker was Philip Space, internationally renowned architect from Gopher City, Minnesota, who was here to promote his new book, "Highrises for Huddl

ed

Masses." Accompanying him was Gopher City mayor, Justin Theory. When Space concluded his lecture on "Architecture of the Last 30 Seconds," he and Theory treated the audience to extemporaneous comments about developments in Minneapolis.
PHILIP SPACE: There sure is a lot going on in Minneapolis—architecturally speaking, that is—and I'm proud to see my density dreams starting to be realized. So many of the city's new highrise buildings are perfect examples of what I've been trying to achieve in Gopher City: the eradication of individual style and disturbing references to the past. What better way to help bring urban residents into this great 21st century than cramming them into apartment blocks containing nearly identical units? When I look at the dozens of new highrise apartments and condos going up all over South Minneapolis, it just about takes my breath away. With all these shiny new units to choose from, why would anyone choose to mess around trying to keep up an old house and garden requiring constant maintenance?
I hear that some slum-lovers are making a stink about the planned demolition of a broken-down

1890's

house by some long-dead builder
in a Minneapolis neighborhood with the s

illy

name of The Wedge. The house would be replaced by a

fantastic

"green"

four-story multifamily apartment building. No one but the

s

e zealots cares about

this old

flophouse–except maybe the tenants–

and

no one cares about them, either.
These outdated wrecks need to be cleared away to make room for the dense,

cosmopolitan

city of the future. As

Gopher City developer

Bill Demhigh

likes to

quip, "I never saw an old house that didn't look like a building site to me." Demhigh, by the way,
recently won Go

pher City's

Cue Ball

Award for the developer who knocks the most buildings down to put his in.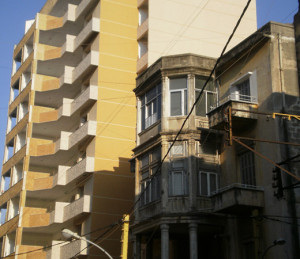 SPACE: There's no

place

for monstrosities such as the house at right in the dense, competitive city. Down they go for clean, lean highrises li

ke the one at left.
JUSTIN THEORY: What a card that Bill is! But seriously,

a

s I've said many times, cramming all the neighborhoods around the urban core with high density apartments and highrise commercial buildings is the path to making our city into the competitive global city of the future. All this clutter of old houses, small businesses, and low-rise apartment buildings needs to be cleared away, as they only remind citizens of past glories that are long gone.
Some members of the Gopher City Council and I understand that economic development is the only hope for the future of our great city. In effect, as city officials, we sit on the board of directors of a big development corporation. As such, we need to be ever-mindful of the needs of moneyed interests. Besides, after we leave office, there may well be a lucrative

job

awaiting us in the private sector.
Phil hit on a real sore point with us when he mentioned these melodramatic nostalgia buffs who cry over the destruction of some ramshackle old dumps that they think are "historic" What a joke! These dewy-eyed sentimentalists with their emotional attachments to some crummy old buildings make me sick. Don't they understand that what we're doing is building a competitive global urban city designed by experts like Phil here, on the finest modern principles?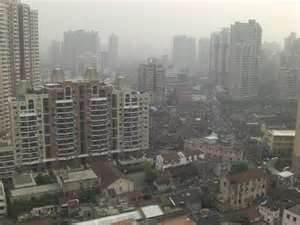 THEORY: With our planning and vision, this is what the new Gopher City will look like in ten years.
Another bunch of cranks are these citizens' groups, always harping about their petty problems. Their selfish concern with public education, safe streets, and affordable housing is the worst sort of parochialism. If they'd just shut up for once and let us, the

city officials

, run the show, we'd have a competitive city rebuilt in no time.
Why should we listen to all this provincial carping when we obviously must think about the future—especially our future when we leave office?
We in Gopher City government know that these slum-loving lowlanders with their crazy prejudices and rugged individualism could easily destroy the global city we're working so hard to remake in our image. It's very important to get this intransigent bunch into big high-rise apartment complexes and these small independent business people under the single roof of a

n

urban shopping mall so we can control them better. Consolidation is our primary goal.
Those that don't like being consolidated can be run out of town or out of business, or both. The poor, for example, don't contribute much, if anything, to the city economy. I think the City of Minneapolis should be commended for its foresight in promoting the construction of luxury condominiums and apartments, for these will attract rich people from all over the state and nation. Rich people pay more taxes and higher rents, and consume much more than poor people, so their presence is an enormous boon to the economy.
Rich people are hurt by inflation, too. A million just doesn't go as far as it used to. By helping the rich, we help ourselves. But the poor give us nothing but headaches. Poor people, you know, have been bellyaching about heating bills. Well, if they can't afford to pay for fuel, they should move south.
SPACE: I'd like to go a few steps further and suggest, as I did in my article "Instant Obsolescence," that we build to tear down. Every new building should be as cold, impersonal, and ugly as possible so that sappy citizens don't develop any maudlin attachments to them. Classical architecture aimed for beauty, solidity, and performance, but this thinking is clearly out of line with modern economics. We should construct buildings that can and should be torn down as soon as they go up.
Fixed cranes scattered throughout the city would aid in the ongoing demolition and continuous building boom which will eternally produce revenue for city government, banks, and developers —while keeping the building trades, contractors, and us architects happily busy.
Modern architecture reflects the vast superiority of the present to the past. What the modern global city must demonstrate is its consolidated power and wealth. What better way to show this than through the serene, faceless skyscraper that reflects in its mirrored purity the egotistical past atrocities of individuals (like the Foshay Tower, for example)—or through the monolithic high-rise which dwarfs all the untidy clutter of history in its titanic shadow? (Enthusiastic applause.)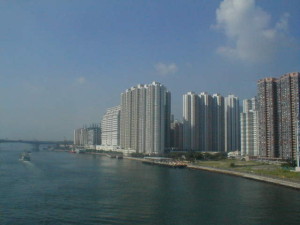 SPACE: This is an example of a real, competitive global city, Hong Kong. What an inspiration!
Well, time's running out, so let me say in conclusion that you and your city planners are to be congratulated for the amazing job you're doing with economic development and urban planning for the competitive global city.
Take care…and keep thinking high and dense!
–T.B., with thanks to Sinclair Lewis and Stephen Colbert