Great news for Healy's most famous Queen Anne houses: On Monday evening, March 23rd, at a meeting held by Hennepin County and the City of Minneapolis with residents of the Healy Block Historic District, the proposed sound wall was defeated by unanimous vote among those residents present. In addition, a new proposed design for the I-35W expansion was presented and approved. Monday's win for the Block is an inspiration for the preservation community: an example of how historic district residents can triumph during a long and challenging political process.
Plans for expanding and redesigning  I-35W at the 31st Street exit have been in the works for a long time. Since the early 1990s, various plans have come and gone, representing serious threats to the Healy Block.  In their current manifestation, expansion plans were introduced more than four years ago. Negotiation and discussion between the various government entities (federal, state, county and local) and the Block residents have been going on  since then. (See post Threats to Healy Houses Renewed)  Over a year ago Block representatives met with MNDOT commissioner Charles Zelle to work out some of the issues with the design. The new design and the nixing of the sound wall represent a significant win for livability of the residents on the Block and the future preservation of these historic houses.
David Piehl, who owns and lives in the J.B Hudson House on the Block, explains why eliminating the sound wall from the expansion plans is important: "A wall would be ugly, and the snow storage requirements for the freeway would mean the wall would be 10 feet closer to our homes than it currently is, in addition to being 20 feet high on top of the already-high embankment. Furthermore, the improvement in noise levels was projected to be around 5 decibels, which is not nearly significant enough for us to want to make the other sacrifices the wall would require."
After the vote on the sound wall, discussion turned to the design of the off-ramp. Residents previously selected a design with a single-lane ramp, separated from Second Avenue by a median. However, the Federal Highway Administration vetoed it as "fatally flawed" due to lack of "storage." That left another option which was very similar, but had a two-lane ramp.
At the meeting Block residents David Piehl, Ioannis Nompelis, and Pete Holly fought hard to keep the pavement and traffic as far from the historic houses as feasible. Residents recognize that Second Avenue on the 3000-3100 blocks serves three purposes–as a residential street, an off-ramp, and frontage road.
On Monday project organizers presented a modified design that has the ramp starting as single lane, then widening to two. They also widened the median separating Second Avenue from the ramp to 12 feet by taking a portion of the embankment. As Piehl reports, Block residents "are OK with this because it moves green space closer to our homes and the ramp further away.  We wanted the median to be wide enough to be planted, so we can plant a visual screen between Second and the ramp, and we got that.  A visual screen will also be re-planted on the embankment.  The proposed median runs all the way to 31st Street. Second Avenue becomes a single lane with parking, but entirely separate from the ramp south of 31st. Even better, Second at 31st will be 'right turn only' due to adding 20 feet of boulevard space in front of the two homes on the 3000 block—which again moves traffic away from those homes, improving livability.  The 'right turn only' lane reduces the appeal of 2nd Ave as a 'frontage road'.  The upshot is that Second Avenue will be a single lane residential street separated from the ramp by a 12-foot-wide, planted median."
The miracle is that after four years of negotiating and fighting with the various entities involved in the I-35W expansion, residents of the Healy Block finally got nearly everything  they asked for, short of moving the ramp. As Piehl says, "It is amazing to think that they started with bringing the freeway 30 feet closer, and a massive retaining wall–and we got them to a place where the plan is an improvement over what currently exists!"
This is a truly remarkable win for preservation in Minneapolis. Thanks go to a talented city planner, Jeni Hager, who diligently designed, re-designed, and re-designed again to ensure that the current proposal satisfied residents' aesthetic and livability concerns as well as state and federal requirements. Many thanks also to supportive City Council members Elizabeth Glidden and Alondra Cano for their leadership.  And finally, thanks and congratulations to David Piehl, Ioannis Nompelis, Pete Holly,  John Cuningham (who worked for moving the ramp) and other Block residents who persevered and made it happen.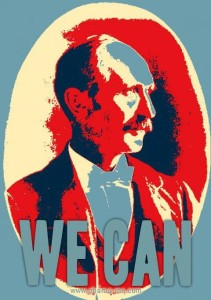 and did!
T.B.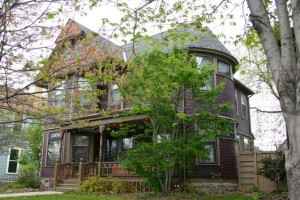 3139 Second Ave. S, the second house Healy built (1886, $3,500)

To receive notices about future tours and events, e-mail info@healyproject.org.

+ + + + + + + + + +
The Healy Project is celebrating its incorporation as a nonprofit with a tour of the Healy Block Historic District on Sunday, November 10th.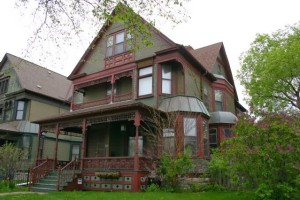 The Rea House in the Healy Block Historic District (1890, $5,000)
Motorists exiting northbound I-35W at Lake Street can't help but notice the Queen Anne houses on Second Avenue, arguably the best known Victorian houses in Minneapolis. These fanciful survivors from a bygone era were designed and built by Theron Potter Healy, Minneapolis's premier master builder. The entire west side of the Second Avenue block was wrecked in the 1960s during freeway construction. Over the years, fires, poor maintenance and redevelopment have taken others.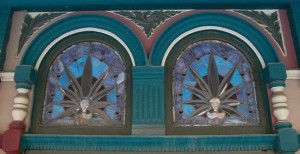 Healy's signature double-arch windows.
Built between 1885 and 1898, these surviving houses, listed in the National Register of Historic Places, have endured thanks to the efforts of a small, but dedicated community. On Sunday, November 10th, the Healy Project is offering a different kind of home tour showcasing the community that has served as advocate for the houses of the Healy Block Historic District (3100 block of Second and Third Avenues).

The Healy Project's inaugural tour aims to highlight and support the efforts of this community. Tourgoers will not only get the usual background into the houses' architecture and history, but also background on the economic, cultural, and political forces affecting their past and future. Experts on real estate, community action, and historical research will talk about architectural preservation in the contemporary, living city.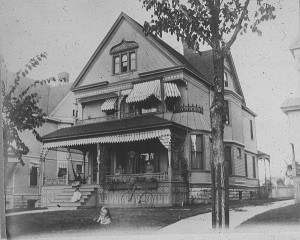 1890's photo of the J.B. Hudson House (1890, $6,000)
Preview of tour attractions: Background about the history of the Block and the struggles of homeowners in the neighborhood. The context of the Block in the Central neighborhood. A look at so-called "Undercover" Healy block (3200s Second Avenue), contrasting the houses there with the protected houses in the historic district. Healy homeowners' success at saving other houses on adjoining blocks from demolition. An explanation of how a large Healy carriage house was lifted and replaced on its foundation. A look inside three early Healy-designed Queen Annes (built 1886, 1890 and 1891) on the Block. Information about a MnDOT plan that seriously threatens the entire Block. And more!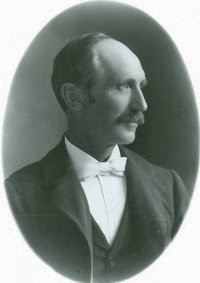 Theron Potter Healy, King of the Queen Anne
Registration is required to tour house interiors.
Tour-goers should assemble in front of 3139 Second Avenue South at 1 p.m. on the 10th. If you would like to

see the

interior of 3139, come

earlier.

Doors open at 12:15 p.m. A $10 donation to the Healy Project is suggested.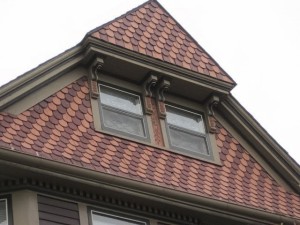 Fishscale shingles on the gable end of 3139 Second Ave.
Healy Block residents, fans of T.P. Healy, preservationists, and activists in the Central Neighborhood are celebrating the acquisition today of the famous Bennett-McBride House at 3116 Third Avenue South by Healy's great-grandson, John Cuningham. Cuningham, a grandson of Healy's eldest daughter Alice, is a prominent Minneapolis architect (http://www.cuningham.com/). Thanks to a concerted effort by the previous owners and members of the Healy Project, including Anders Christensen, Madeline Douglass, Connie Nompelis, Brian Finstad, and David Piehl, Cuningham closed on the house today.
This justly celebrated Queen Anne was the first Healy-built house to be recognized as a superb example of the style. In 1977 the Bennett-McBride House was listed on the National Register of Historic Places, heralding the historic designation in 1995 of the other thirteen Healy houses on that block as the Healy Block Historic District.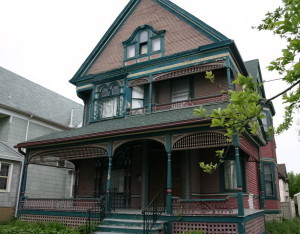 3116 Third Ave. So. B25076
30 X 60 Frame dwelling 4-24-91/ 8-1-91
Builder: Est. cost: $5,000.
Healy's name is not on the permit, which was taken out by the first owner,
Henry Harrison Bennett, owner of the lumber yard that bore his name. The second owner, John M. McBride, operated a grocery story at 3045 Nicollet Avenue and lived in the house until his death in 1943. Subsequent owners have taken good care of the house, which boasts most of its original millwork inside and out. At the rear of the house is the original barn, complete with cupola.
The north side, showing typical Healy dormer and second-story balcony. The missing balusters on the porch were kicked out by an intoxicated man

–

–

but saved for future replacements.

Amazingly, most of the exterior woodwork is original.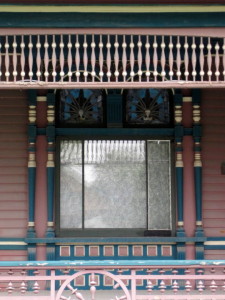 Detail of the front porch: the ball-and-stick fretwork and stained glass windows.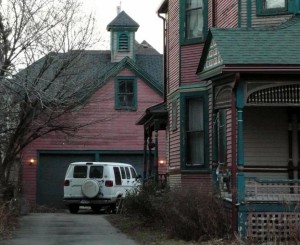 The south side, showing the barn (one of the few unchanged Healy barns still standing) and the back porch.
g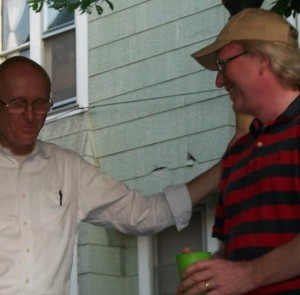 John Cuningham and Anders Christensen celebrate the former's acquiring the Bennett-McBride House (house next door in background), June 28, 2012 (photo by M. Douglass)
–T.B.
My dad used to eschew visiting cemeteries on Memorial Day, saying, "Life is for the living." Well, he's gone now, so I assume he doesn't mind that I wore his watch (in his memory) during my visit to Lakewood Cemetery today.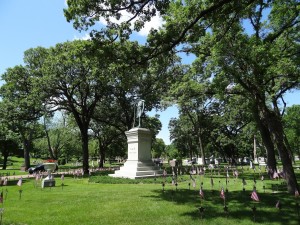 The Civil War monument at Lakewood Cemetery, where the memorial service, with a speech by Gov. Dayton, was held today.
Years ago, my family would go to Lakewood on Memorial Day to place flowers from the garden on the graves of family members who once lived in our house. We had no relatives' graves to visit in Minneapolis, so we adopted the Beardsleys, if only for a day. As we learned more about local master builders through researching the history of houses in the neighborhood, we added to our Lakewood visits a trip to the grave sites of the three most prominent of them: T.P. Healy, Henry Ingham, and Henry Parsons. (When we eventually found and contacted the descendants of Ingham, his granddaughter remarked, "So you're the ones who have been putting flowers on Granddad's grave!")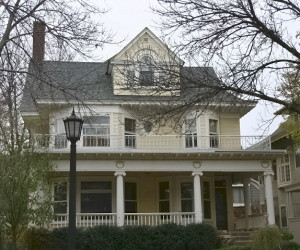 1712 Dupont Avenue South: An 1897 Healy house whose exterior hasn't changed much over the last century.
It being such a fine day, I decided to go to Lakewood and visit the graves of the master builders this morning. As usual on Memorial Day, the little lanes of the cemetery were clogged with cars, pedestrians, bicycles, and motorcycles, but it didn't take me long to get to the Healy family plot in Section 9, not too far from the entrance. There, at the base of a big elm is the last repose of T.P., his wife, and two young sons. The marker says simply, "Theron P. Healy, 1844-1906." A vase full of flowers by the marker told me that I was not first to make it to T.P.'s grave today. (When I got home, I discovered that Madeline Douglass had preceded me to the spot, bearing the bouquet.) Having no flowers, I spied a crow's feather that had fallen in the grass nearby and placed that on the marker. Somehow it seemed fitting, crows being wise and always cloaked in black. Just as I framed the shot on my camera, a caterpillar inched its way across the marker. That too seemed fitting: Life going on, oblivious to the dead.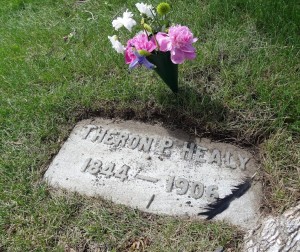 The marker, with caterpillar and feather.
Then I went on to Ingham's grave in Section 26, and Parsons' in Section 21, both on the outer edge of the cemetery. I regretted not bringing flowers for them, especially for Parsons, who died without leaving descendants. Next year.
It might seem a bit daft to commemorate people with whom one has no apparent connection. But those of us who admire the work of these builders, who live in their houses, who appreciate their artistry and craftsmanship do have a connection with them. We remember the builders because their works are manifest on the streets of the city.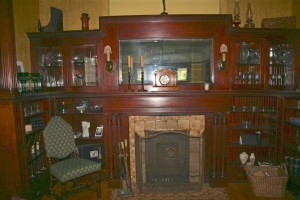 The fireplace nook in a beautifully preserved 1894 Healy Queen Anne.
Some of these houses are not recognizable as what they were when they were built. Others have been restored or preserved so they strongly resemble what they were a hundred years ago or more. Yet others are teetering on the abyss of urban removal, torn up, beat up, and abused, barely fit for habitation. That's why it's important to remember and celebrate the builders and their buildings. Enjoy what you have while you have it. You never know when a developer, schlockmeister, bad wiring, or lightning bolt will bring one down.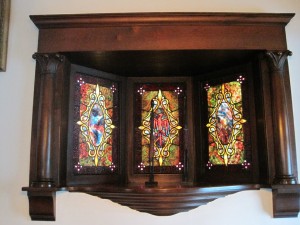 The stained glass windows on the staircase landing of an 1899 Healy house.
The original tiled floor in the vestibule of another 1899 Healy.
On Memorial Day we thank T.P. Healy, Henry Ingham, Henry Parsons, Nels Jenson, C.C. Johnson, and the other master builders and architects who created the old houses that we live in or pass by every day on the streets of Minneapolis.
Let me conclude with my favorite quote about builders and their buildings from the "Lamp of Memory" section (appropriate for Memorial Day) of John Ruskin's 1849 work, The Seven Lamps of Architecture:
When we build, let us think that we build forever.
Let it not be for present delight nor for present use
alone. Let it be such work as our descendants will
thank us for; and let us think, as we lay stone on
stone, that a time is to come when those stones
will be held sacred because our hands have
touched them, and that men will say, as they look
upon the labor and wrought substance of them,
"See! This our fathers did for us."
I think Healy and the others could relate to that.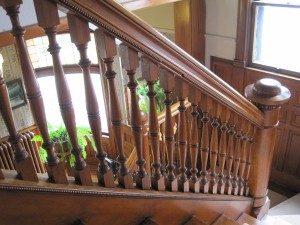 Staircase spindles in an 1895 Healy.
–T.B.

Note: This is a corrected version of the May 23rd posting, edited after a recent interview with Wayne Tinberg. A new post on that interview will follow.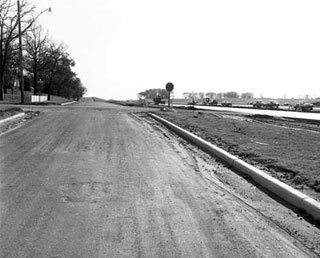 The roadbed for 35W being laid in Richfield in 1960.
The previous blog post was devoted to three Healy houses lost to freeway construction and one to changes in fashion. So far, the entries on this blog have presented the building list of Healy houses in roughly chronological order.
At this point, it may be helpful to take a look specifically at all the houses wrecked for I-35W construction in 1959-60, no matter what their building date.
According to city records, nine houses designed by T.P. Healy were built on the west side of the 3100 block of Second Ave. South. In order of house number, they are:
3106, built in 1888 for $3,000
3108, built in 1888 for $3,000
3116 (directly across the street from the Healy family home),
built in 1896 for $4,500
3120, built in 1892 for $9,000
3130, built in 1889 for $5,000
3132, built in 1889 for $5,000
3136, built in 1891 for $7,000
3140, built in 1887 for $6,000
3142, built in 1887 for $4,000
Here they are again, in order of year built:
1896–3116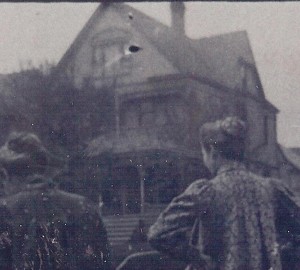 An old photo of 3130 Second Avenue (courtesy Robert-Jan Quene). It would be interesting to find more photos of these lost Healy houses.
One can deduce that the three pairs of houses built side-by-side in the 1880s were probably built on spec by Healy. The house built in 1891 is apparently a much fancier house, a stone veneer dwelling costing $7,000.
The one from the next year, 1892, a brownstone, is fancier yet, erected for the princely sum of $9,000.
The most famous resident of that block was Richard W. Sears, co-founder of the Sears and Roebuck Company.
According to the Sears company archives:
Richard Warren Sears was born December 7, 1863, in Stewartville, Minn. Although Sears' father was at one time fairly prosperous, he lost all of his money—about $50,000—in a failed stock-farm venture.
Consequently, at a young age, Richard Sears found it necessary to work in order to help support the family. Working as a station agent for the Minneapolis and St. Louis Railroad, Sears looked to supplement his income. In 1886, he found an ideal solution when a local jeweler refused a consignment of watches. Sears asked the manufacturer's permission to try to sell the watches. Permission was granted, and soon he had sold all of them to fellow agents.
Within six months, Richard Sears' watch business escalated so much that he resigned from the railroad in 1886 and moved to Minneapolis, where he could devote full time to his growing mail-order enterprise, which he founded that year as the R.W. Sears Watch Company. He was only 22 years old.
Sears joined forces with watch repairman Alvah C. Roebuck in 1887 and then with key financier and future president and chairman Julius Rosenwald in 1895. The headquarters of Sears, Roebuck and Co. had been established in Chicago in 1893.
In 1908, poor health forced Richard Sears to retire from active participation in his company, which had grown to annual sales of $40 million. He died six years later.
The chronology of Sears' rise is interesting. When Sears bought 3132 from Healy in 1889, the latter was only 26 years old. By then, Sears had partnered with Roebuck and set up the company that bore their names (today, only Sears' name remains).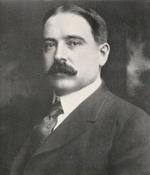 "If you buy a good watch you will always be satisfied, and at our prices a good watch will influence the sale of another good watch; and that's our motto: "Make a Watch,Sell a Watch." (Richard Sears in 1892)
Wayne Tinberg, who bought the Healy-built house at 3124 Third Avenue South in 1959, told Madeline Douglass that the homeowners on that block used to celebrate Healy's birthday each year–hence the hastily-organized birthday celebration behind Healy's family home at 3115 this year. It is remarkable that even many years after Healy's death, the people who lived in the houses he built on Second Avenue remembered and celebrated his work.
The "urban removal" of the 1950s and '60s changed all that and brought many Victorian houses into the clutches of slumlords or in front of the paths of bulldozers. The revival begun in the '70s with the designation of the Healy block to the historic register continues today, through fits and starts, enduring ups and downs. But sadly, for many houses in Central Minneapolis, the danger from bulldozers, slumlords, and "flippers" has not gone away. The housing crisis of 2008 has only made it worse.
Much research remains to be done on the architectural legacy of Healy, including work on his connection with Sears and many other prominent people of his day in Minnesota.
If people value something, they will make an effort to keep it safe, and i
t is through this research that we hope to preserve T.P. Healy's splendid architectural legacy.
–T.B.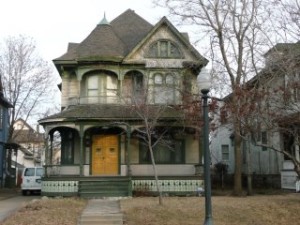 This is my favorite Healy house. Healy's development of the Queen Anne is the balancing of a variety of elements, the circular and the rectilinear. This house seems to melt from one section to another. A.C.
Permit information:
3111 Second Ave. So.
Owner: T. P. Healy
Architect:
Builder:
B25565
6-10-91 / 9-1-91
Est. cost: $5,000.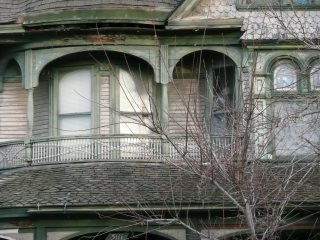 The second floor porch below the tower, the front of the house curved, the balcony railing curved, unique among existing Healy houses.
Detail of front porch, with the classic double entry doors. For everyone who has been here, this is the spiritual center of the Healy Block.
The front gable end with half-round window and fishscale shakes.



The link above will take you to an article about Marjory Holly, longtime owner (with her husband Peter) of this house.
-A.C.
Permit information:
3101 Second Ave. So.
30 x 60 Wood dwelling
Owner: T. P. Healy
Architect:
Builder:
B23331
8-23-90 / 11-1-90
$6,000.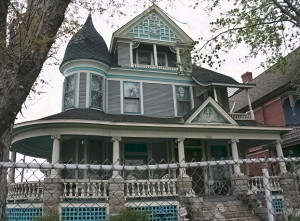 Originally the residence of Dr. Rufus H. Lane, this Queen Anne is o
ne of the most visible Healys, well known by people exiting 35W at 31st Street.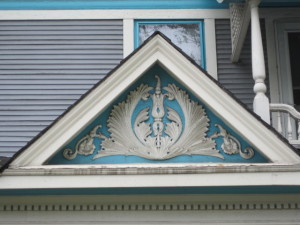 Detail over the porch entrance
The entrance has classic double solid doors. The classical porch columns, dentils, and this appliqué decoration look like a very early attempt to neo-classicise a Queen Anne. Healy built a house on the southern corner of this block the previous year. He seems determined here to show us everything he's got.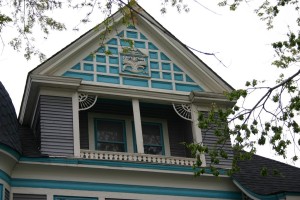 The third floor enclosed porch, with detailing above echoing design above entrance. The paneled gable end is similar to that of 2936 Portland, built the same year.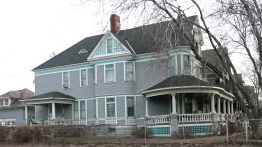 Back porch on the side, eyebrow dormer curved bay under northside gable end (probably with both curved glass window sash and curved glass storms, curved wraparound front porch, corner tower with a bell roof, and that is just the north side.

The trees in front protect this house from the western sun in the summer and help absorb the noise of 35W.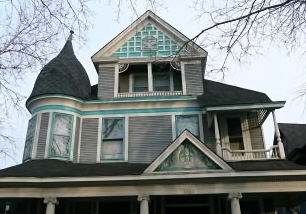 Third floor porch below paneled gable end, the corner tower with the bell roof, and the second floor porch with the cat-slide roof.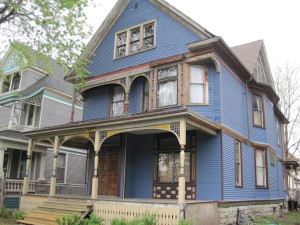 A relatively plain Healy Queen Anne set between its more elaborate neighbors. According to Madeline Douglas, the current owners, the Mauris, have brought this house back to life. Master Carpenter Peter Holly, who lives on the Healy Block, has restored the porch woodwork to its intricate original glory, as he has so many other Healys.
Permit information:
3107 Second Ave. So.
30 x 50 Frame dwelling
Owner: T. P. Healy
Architect:
Builder:
B24747
3-30-91 / 6-1-91
Est. cost: $5,000.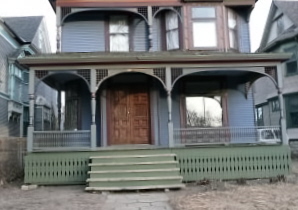 This photo shows the porch restoration by Peter Holly. 

The porch and entrance reveal the elegance of Healy's design: the delicacy of the posts, railings, and upper trim, the classic double entrance doors, the skirting, the curved window, the elaborately trimmed main window. 
  1890: One world passing away; a new world being born. John Henry Cardinal Newman, a leader of the Oxford Movement, died (b. 1801). Artist Vincent Van Gogh died (b. 1853). Composer Cesar Franck died (b. 1822). Russian statesman V. M. Molotov born (d. 1986). American general and president Dwight D. Eisenhower born (d. 1969). French soldier and statesman Charles DeGaulle born (d. 1970).
Formation of the American Tobacco Company, after a price war among cigarette companies, created a monopoly organized by James Buchanan Duke. Duke later created similar monopolies for plug tobacco and snuff. Ultimately he established the Duke Endowment, principally for the benefit of Trinity College in Durham, N.C., in 1924 renamed Duke University.
Aug. 6: The first electrocution took place at Auburn Prison, Auburn, N.Y. The executed prisoner was William Kemmler of Buffalo, who had been convicted of the hatchet murder of Matilda "Tillie" Ziegler, his common-law wife, on Mar. 28, 1889. The execution was botched. George Westinghopuse, Jr., reported: "It has been a brutal affair. They could have done better with an axe."
(To promote his advocacy of electrocution as an ideal way of execution, Thomas Alva Edison went around the country publicly killing elephants and other animals by running an electrical current through them.)
The existence of urban slums was well known by many, but it was not until the publication this year of "How the Other Half Lives" by Jacob Riis, a Danish-born New York City Journalist, that the reality of the miserable lives led by thousands in the slums was brought home to the general public. The book triggered efforts to alleviate these conditions by improving labnor conditions and instituting building codes. In his book Riis cited facts and figures and told of his experiences in the slums. Battling alone at first, Riis gained many supporters and found a powerful ally in Theodore Roosevelt. He also made enemies of landlords and politicians who were profiting from the slums.
Healy rarely built the same house twice. In this case he had the good sense to build the second across town from the one in Central, over North in Old Highland.

Permit information:
2932 Park Ave.
30 x 60 Frame dwelling
Owner: George F. Hitchcock
Architect:
Builder: T. P. Healy
B22071
4-23-90 / 9-1-90
Est. cost: $7,000.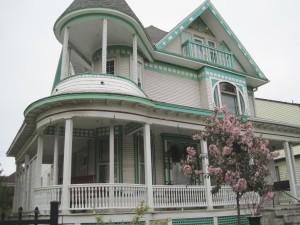 What do we call this second floor porch ceiling structure? A diagonally projected conical porch roof? (
An old picture of this house shows the original porch posts and decorative woodwork.)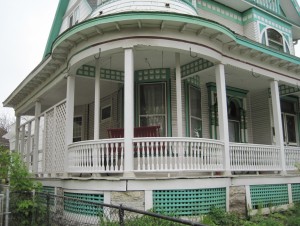 A lovely Queen Anne detail: the round porch corner below the upper porch. The wall of the second story is curved below the south gable end.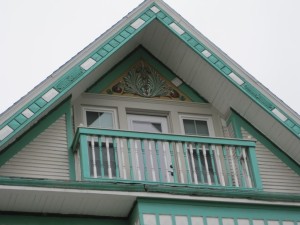 The front gable end with false balcony.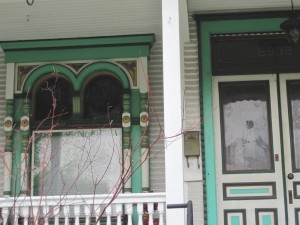 The typical two-door entrance.
Permit information:
1425 Dupont Ave. No.
30 x 65 Wood dwelling
Owner: F. S. Stevens
Architect:
Builder: T. P. Healy
B22279
5-6-90 / 8-1-90
Est. cost: $7,000.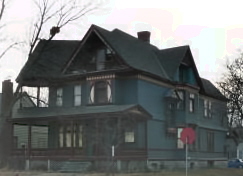 The house in Old Highland, even better preserved than the house on Park Avenue.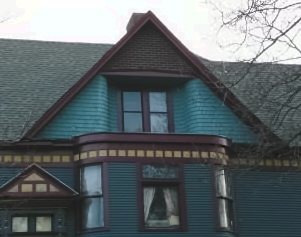 The north gable end overlooking 15th Street. Healy used this feature repeatedly during this period; this is the only one that hasn't been covered up or altered. Note the insulbrick siding at the peak. According to David Piehl, this house was covered in this fake brick siding when its current owner, Greg Rosenau, acquired it. Restoration is a process; there is rarely a conclusion. Ask any old house owner.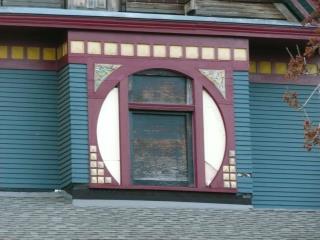 The interesting second story round-on-rectangle window detail.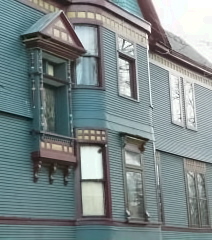 This window dressing looks like the framing to a shrine.
–A.C.
Permit information:
3127 Second Ave. So.
30 x 55 Frame dwelling
Owner: T. P. Healy
Architect:
Builder: Self
B21731
4-2-90 / 7-1-90
Est. cost: $6,000.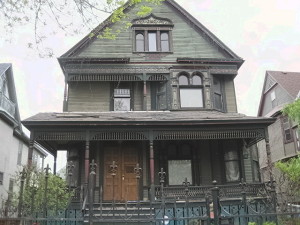 This was the home of J. B. Hudson, an important figure in the retail jewelry business in Minneapolis. Healy would build J. B. Hudson a second home on Lowry Hill in 1905. (Photo taken in 2011)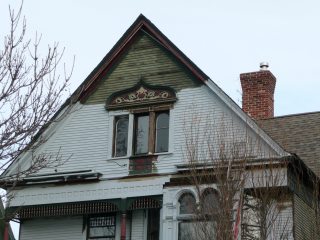 The front gable end with the distinctive cap over the triple set of gable end windows. On the second floor, note the arched stained glass transoms over the rectangular window in the bay.
Note by owner David Piehl: All of the jewelled glass windows in my house were stolen when it was vacant prior to my ownership…with documentation provided by Andy Gage, they were reproduced by Century Studios to look as close to original as possible(remember that Century Studios makes the finest Tiffany reproductions, experts have trouble telling they aren't original). The piano window had been missing for so long that we had no documentation on it, same with the second floor arched windows. The piano window was created using a design Robert Quene created, and I bought a set of antique windows from Keith Miller that fit the 2nd floor; the person Keith purchased them from claimed to have salvaged them from a house across the street before the demolitions to make way for "progress".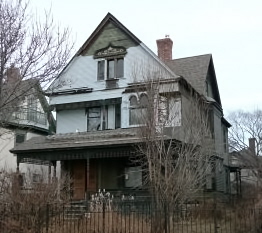 The house with new paint job under way (Photo taken in 2012)

From 1890-1892, T. P. Healy builds the Queen Annes that we think of as his classics. My records show that he built 30 houses and a couple of barns during this three year period. Six of these houses have been wrecked, four for I-35. Minneapolis's population had nearly quadrupled in the 1880's; it was still growing. Twenty-three of these houses were built by Healy on spec; seven were built for clients. Only two were designed by architects; Healy designed the rest. Nationally, the American economy was heading for a bubble and a crash in 1893.

The building record for T. P. Healy reflects 15 houses and a barn built in the 1880s after his arrival here in 1885. Seven of these houses have been demolished, six by the construction of I-35 in 1959-60. There are undoubtedly more houses built by Healy during this period that have not been found. They may have been demolished. They would likely be in the Central or Whittier neighborhoods, or the Lake Street corridor from 28th St. to 31st St. If anyone reading this page is the kind of person who likes to dig through City building records, go find some more Healys.
–A.C.