In answer to my inquiry about T.P. Healy, we have received the following e-mail from Garry D. Shutlak, Senior Archivist, Reference Services, Nova Scotia Archives:
"Subject: Theron Potter Healy (1844-1908), farmer, commission merchant & grocer, wholesale grocers, produce and commission active Nova Scotia (1868-1882)
Based on the birth of the children, Mr. Healy left Halifax sometime after 02 June 1882 when daughter Bessie O. Healy was born in Halifax. The family is detailed on www.ancestry.ca
And we have a number of birth and marriage and death records recorded on our web site www.novascotiageneaolgy.com
We searched on-line the Nova Scotia Provincial and Halifax city Directories until Mr. Healy failed to appear.
He is first listed in McAlpine's Nova Scotia Directory1868/69 aa a farmer in Round Hill Annapolis County He is next listed in the 1871/72 Halifax City Directory Theron P. Healy of Healy, Whitman & Company, commission merchants and grocers, 120 Upper Water Street (Theron P. Healy and John W. Whitman.) The firm becomes T.P. Healy & Company , Theron P. Healy, h 117 Cunard Street in 1879 produce and commission merchants, 116-118 Upper Water Street and last appears in the 1882 McAlpine Halifax City Directory, published the 1 of July, 1882.
By checking our Registry of Deeds we find that Mr. Healy moved to Halifax sometime after O1 January 1871 and that he was still residing in Halifax on the 03 January 1883 but by 25 June 1883 he was a resident of Minneapolis.
According to the ancestry web site, Mr. Healy had two vessels, the schooners Lina and Mary E. Banks. According to the Shipwreck database on the Maritime Museum of the Atlantic web site, the Mary E. Banks was stranded and became a total loss on the North East Reef, L'Ardoise , 30 August 1883."
We knew something about Healy's time in his home village of Round Hill, NS. His brother John's wife was the former Sara Jane Whitman–which suggests a family connection with Healy's business partner in Healy, Whitman, and Company. We also knew about the loss of the Mary E. Banks, which, according to Healy's descendants, ruined him financially and spurred the move to the Midwest.
While this e-mail answers some questions about Healy's time in Halifax, it deepens the mystery of how Healy made the transition from "farmer, commission merchant, and grocer" to master builder. Did he design and build wooden ships in Nova  Scotia? Only further research will tell.
Again, special thanks to Garry D. Shutlak of the Nova Scotia Archives.
–T.B.
Theron Potter Healy was born in Round Hill, Nova Scotia, Canada, on May 14th, 1844.  In 1866 he married Mary Anne Jefferson, also of Round Hill.  From what we can piece together, Healy started his career as a shipbuilder.  He moved to Halifax, where he continued in the shipbuilding trade. However, disaster struck in 1883, when one of the vessels he owned was lost in a storm. Because of this loss, and probably also because wooden ships were at the end of their commercial use, Healy picked up his growing family and moved to Minneapolis. Three years later his first house went up at 3137 Second Avenue South.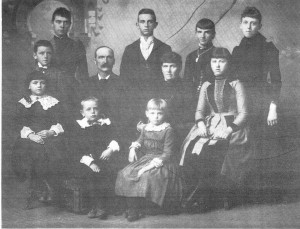 Theron and Mary Ann with their children. l-r back row: Alice, Charles, Dora, Lena; middle row: Reginald, T.P.,Mary Anne, Erena; front row: Birdie, Chester, Bessie.
(Thanks to the Halifax (NS) Public Library, info on the shipwreck that spurred T.P.'s move to the US–Vessel: Mary E. Banks, Type: Schooner (wood, 2 masts, 1 deck), Tonnage: 50.2, Length: 62.4′, Breadth: 17.6, Draft: 8′, Built at Barrington, NS, 1863, Date lost: August 30, 1883, Cause: Stranded during gale on shoals off L'Ardoise, Cape Breton, Value: vessel $1,500+ cargo $2,000, Owner: Theron Healy.)


Much research remains to be done on Healy's work in Canada.  Round Hill is a small community on the Annapolis River, off the Bay of Fundy on Nova Scotia's west coast.  Here are images from Round Hill currently on the Web: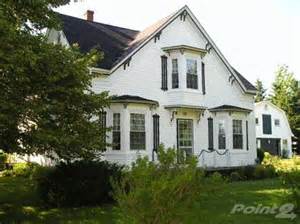 This vernacular Gothic Revival house in rural Round Hill is listed for sale at $198,.000.  No building date is given, but its style suggests it was built mid-19th century.  Shown at right is its barn with the gambrel roof Healy used so frequently in his later designs.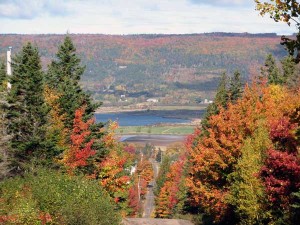 The Annapolis Valley from Round Hill in autumn.
–T.B.