2546 Portland Avenue South, Minneapolis, MN
Sunday, December 3, 2017   1-4 p.m.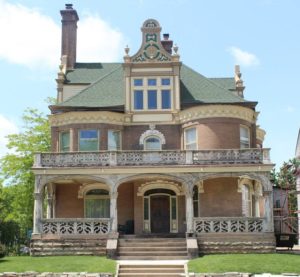 In July the Healy Project held an open house at the Renaissance Revival mansion at 1300 Mount Curve, designed by William Channing Whitney and built by T.P. Healy.  The Winter Party will be held in another architect-designed and Healy-built house of a very different style. Join Healy homeowners and supporters of the Healy Project at a party in the exquisite Châteauesque house at 2546 Portland Avenue South, designed by Edwin P. Overmire and built by T.P. Healy in 1900. Hand-carved Corinthian capitals and a gilded  domed ceiling in the foyer are just two of the elegant interior features.
Overmire began his career as a draftsman for Plant and Whitney before he became a celebrated architect in his own right.  Just five years after this house was built, Overmire met an untimely death at age 41.
The suggested donation of $20 will support the ongoing research on buildings by Healy and other master builders. Refreshments provided.
On the afternoon of Sunday, July 9th, supporters of the Healy Project were offered the wonderful opportunity to see the interior of the mansion at 1300 Mount Curve Avenue on Lowry Hill. Bob Levine and Gloria Finlay generously opened their 9,000-plus square-foot home as a fundraiser for the Healy Project's ongoing research for a publication on the life and works of T.P. Healy.
Listed in the National Register of Historic Places, this magnificent Renaissance Revival mansion was built by T.P. Healy in 1904. Celebrated architect William Channing Whitney designed the house for Charles Martin, secretary-treasurer of the Washburn-Crosby Company. Architectural historian Larry Millet has aptly called the house a "modern palace." During the 1960s and '70s it was the home of art dealer Gordon Locksley, a national figure in the Gay Rights movement.  Bob Levine acquired the house in 1982 and has over years done extensive restoration and updating work on the residence, adding a swimming  pool and other modern features.

Over one hundred guests toured the house, yet no room was ever crowded. Healy homeowners, as well as owners of homes by other master builders, Healy family members, Lowry Hill residents, and old house lovers roamed through four levels of mansion, viewing the Minneapolis skyline from the penthouse balcony and descending  to the basement level.
Ezra Gray of the Healy Project made a slide show of the history of the house from its construction in the early 20th century to the present day. During the Gordon Locksley era wild parties with figures from the art world such as Andy Warhol and German performance artist Christo were thrown. At one party Christo (who is famous for wrapping buidings) wrapped two artist's models in clear plastic and placed them on the dining room table.
Needless to say, the Healy Project event was much tamer, but still a lot of fun. Since pictures speak louder than words, here's a selection of photos from the event
Unless otherwise noted. photos are by Ceridwen Christensen (CC) and Trilby Busch (TB). Please credit.
The Healy Project is making plans for a holiday open house in a Healy-built house designed by gifted architect Edwin P. Overmire. Watch this space for an announcement.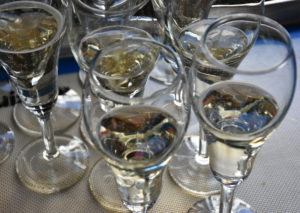 On Sunday, February 12, Healy Project supporters, neighbors, and members of the Healy family met at an 1895 Healy-built house in the Wedge. They celebrated the restoration of the house's interior following a fire and looked forward to a year of special projects and new research regarding the life and works of T.P. Healy. Every inch of the surface of the interior had to be cleaned, and refinished or repainted after the fire.
Photos by Richard Mueller
On Saturday, October 3rd, a beautiful fall day, 26 people walked around the north end of Lowry Hill East. Guided by Anders Christensen, Ezra Gray, and Sean Ryan, they looked at buildings by T,P. Healy and other master builders and architects.
At the end of the tour, they viewed the interior of a restored house designed and built by Healy in 1899. Ironically, forty years ago, this house was bought by Healy Project board member Nathaniel Forbes, who undertook some of the initial restoration projects.
Here is Anders' introduction to the tour, giving background information about the builders and their houses:
"Theron Potter Healy is Minneapolis's most famous builder. He was a master builder, coming from a time before academically trained architects. He was a real estate developer, a house designer (often referred to as an architect), and a general contractor, all in one.
Why is he our most famous?
First, Healy was prolific: nearly 200 buildings in a twenty year time span–commercial buildings, our first YWCA, apartment buildings, barns, carriage houses, auto sheds, and all those marvelous houses. The three largest concentrations are in Central (the Healy Block), Lowry Hill, and here in Lowry Hill East/the Wedge. He built for many of the most prominent families; he built for virtually every leading architect, he built in 13 Minneapolis neighborhoods.
Second, since his rediscovery in 1978, he was nicknamed "King of the Queen Anne" by Trilby Busch. The Queen Anne style is what we think of when we talk about a "Victorian" house. We will see some of Healy's Queen Annes in the North Wedge. The Queen Anne house is romantic, fanciful, curved, ornamented–pre-modern. It reached its peak in 1892.
The Crash of 1893 was the second worst financial panic in American history. It came about because of Wall Street speculation in railroads. Everybody wanted to be a Vanderbilt. The Columbian Exposition of 1893, also known as the Chicago World's Fair, was centered around the White City emphasized Neo-Classical architecture. The State Buildings presented a variety of American colonial models. After 1893, the Queen Anne was out of date.
–
The Queen Anne did not come back into favor until the late 1960s and 1970s. They were cheap, center city, a repudiation of '50's modernity, and adored by gay men.
Third, T. P. Healy's personal story is compelling. Born in Round Hill, Nova Scotia. His family's business was the Healy Woodworking Company. Healy did not work in the family business. He made his way to Halifax where he was a merchant and ship owner transporting hardware up and down the New England and Canadian Maritime coast.
His fortune sank with his two ships. The age of the wooden ship was coming to an end. His wife's health suffered from the cold, damp climate. In 1883 he took his family (wife Mary Ann and eight children–Lena, Alice, Charles, Dora, Erena, Reginald, Birdie May, and Bessie) to Bismarck, Dakota Territories to build schools, houses, and tenements with his older brother Anderson Healy. In 1885, they came to Minneapolis with one additional child, Henry Chester. Healy was forty-one years. He was starting over in a new city. Twenty-one years later in February of 1906, he died of a heart attack while out for an evening stroll. He was sixty-one years old.
On our tour we are going to see a number of houses designed and built by T. P. Healy. We are also going to see the works of three other master builders–Henry Ingham, Henry Parson, and P. C. Richardson, as well as houses designed by such Minneapolis architects as the Orff brothers George and Fremont, Harry Wild Jones, William Kenyon, Edward Stebbins, Walter Keith, James McLeod, Clarence Johnston, William Channing Whitney, Edgar Joralemon, Warren Dunnell, Frederick Clarke, Septimus Bowler, Christopher Boehme, Victor Cordella, Lowell Lamoreaux, Frederick Kees, and Joseph Haley.
This tour has three themes:
1. History is stratified. There is not just one past, there are many layers of the past. Understanding our history is important because it helps to orient us.
2. Almost all old buildings are capable of restoration. We will see many examples of this on our tour. We can see beyond condition to understand what once was and to envision what is possible.
3. In Minneapolis, many fine old buildings have been lost by our failure to adaptively reuse them. It is a failure of imagination and political will. It is also the result of a municipal political system corrupted by the financial influence of real estate developers."
–T.B.
NOTE: This is the first in a series by the owner describing step-by-step the restoration and repair of the damage incurred in a fire in a Healy House. T.B.
*                                 *                                 *                                  *                                 *
26 August 2015
It is just over a month since the fire in the kitchen of our 1890's Healy House.
At about 2 am on a Monday morning we were awoken by our smoke detector.  There was smoke everywhere.  We ran down the stairs, my wife with her cell phone in hand calling 911.   While opening the back door in anticipation of the fire fighters needing to get into the house, I saw flames in our kitchen.  Everyone got out of the house in plenty of time and the fire trucks (five plus a command vehicle and an ambulance) arrived and they were inside with a house, with a hose, within 5 minutes.
The fire damage was limited to the kitchen, but there was smoke throughout the house.  The kitchen will need to be gutted and maybe the bedroom above it.  For the preservation side, the kitchen was the most altered room and had very few original features. The effect on the rest of the house is limited to smoke damage and some exterior storm window destruction by fire fighters to allow for ventilation.  The fire fighters did a great job and were very kind and helpful. They did tell us that the kitchen's tin ceiling probably prevented the flames getting to the second floor.
Over the next few months I will be going over this experience: insurance people and friends; cleaning clothing and cleaning electronics; anger and loss; but mostly the kindness and understanding of others.
Many of you have seen this family portrait of Theron Potter and Mary Ann Jefferson Healy with their children, taken c. 1887, the year after they moved to Minneapolis. This clear digital copy was recently sent to me by a Healy great-grandson, Charles Woodrich.
His mother, Phyllis Healy Woodrich, daughter of Charles Evans Healy and Nettie May Olds, had passed away in April eleven days shy of her 95th birthday. A couple of decades ago, she had typed up her childhood impressions of the people in this photo and affixed these to the back of the photo. They are a wonderful view of the Healy family in the 1920s as seen through the eyes of a young girl:
Aunt Alice was a pleasant lady who helped me with knitting on her front porch at Newton and Oliver (21st St.). She was married to Uncle Frank Johnston who was the exact image of a Dickens character – sunken eyes, bald, pale complexion – like Scrooge maybe. I shied away from him so I don't know if he was as mean as he looked.
Charles was my father. I was 12 when he died and I don't remember him very well but from all I hear he was a very jolly man and once sat on a wet sponge the entire evening thus making the people who put it there as a joke very uncomfortable as he didn't acknowledge it was there. He was a potato broker and in those days there were no government subsidies. He went broke several times but my brothers told me that many years he was a millionaire. We always had a maid, moved to Arcola for the summer. He belonged to Lafayette and the Athletic club. All the relatives spoke well of him.
Dora married Percy Wood – nice as I remember. He sold fire engines for a living but only sold one in his lifetime. They were not well to do. They had 2 sons: Jim who married a woman who felt that her family was socially above everybody. She got polio and walked with difficulty after but she was very creative and made silk lampshades, lovely needlework. She didn't like any of us except my mother. The other son was Granville who was a hydro*** ?. The hole in his head never closed so his head kept growing but his body didn't keep up. He spent his life in a wheelchair and made rag-rugs. He was extremely good natured.
Lena I really liked her but didn't know her too well. She had broken blood vessels on her face and was very good natured and happy.
Reginald married Aunt Marge. He borrowed a large amount of money from my father and never repaid it. Aunt Marge was cheery and very smart. They had two children: Ann Strothman and Barbara who was a war orphan from France and somehow never found her place – She always seemed unhappy. She eventually married (a cad) and ended up shooting herself some years later.
Erena married Joe White who was a handsome vain man, lived on the corner of Sheridan and 21st. He made marvelous molasses taffy. Eleanor, Dick and John were their children. Eleanor at 90 is the star of the family.
Birdie I don't remember at all. She married a Hooker and moved to Calif.
Chester everybody said was awful. He married Lulu whom we all liked. He gave me the footstool in the living room when I was 6.
Bessie was the matriarch of the family and never lost her English accent. She terrorized everybody and was very mean to Mother. We always had to show up at her apartment before Christmas. I must say she did have a fascinating tree and always made lovely cookies for the children. She was secretary at St. Paul's Church all her life. Never married but had a woman friend we called Aunt Jessie. I was 20 before I found out she wasn't my real aunt.
*      *      *
Note: Another child, Ernest Theron, born in Halifax in 1874, died in infancy.
We are indebted to Phyllis Woodrich for giving us this glimpse into Healy family life nearly a century ago. Thanks also to Charles Woodrich for passing this on.
As a footnote, I'd like to urge those of you who care about your family history to write notes on the back of family photos giving a who-why-when-where of their subjects, as did Phyllis Woodrich. So many old photos are discarded because no one knows who's pictured. My father was very good about this and wrote similar comments about his aunts and uncles on the back of a family portrait from the early 1900s. Without these, the greats- and great-greats have no clue about the personalities and lives of their ancestors.
In Memoriam Phyllis Gertrude Healy Woodrich, April 25, 1920-April 14, 2015
–T.B.
In answer to my inquiry about T.P. Healy, we have received the following e-mail from Garry D. Shutlak, Senior Archivist, Reference Services, Nova Scotia Archives:
"Subject: Theron Potter Healy (1844-1908), farmer, commission merchant & grocer, wholesale grocers, produce and commission active Nova Scotia (1868-1882)
Based on the birth of the children, Mr. Healy left Halifax sometime after 02 June 1882 when daughter Bessie O. Healy was born in Halifax. The family is detailed on www.ancestry.ca
And we have a number of birth and marriage and death records recorded on our web site www.novascotiageneaolgy.com
We searched on-line the Nova Scotia Provincial and Halifax city Directories until Mr. Healy failed to appear.
He is first listed in McAlpine's Nova Scotia Directory1868/69 aa a farmer in Round Hill Annapolis County He is next listed in the 1871/72 Halifax City Directory Theron P. Healy of Healy, Whitman & Company, commission merchants and grocers, 120 Upper Water Street (Theron P. Healy and John W. Whitman.) The firm becomes T.P. Healy & Company , Theron P. Healy, h 117 Cunard Street in 1879 produce and commission merchants, 116-118 Upper Water Street and last appears in the 1882 McAlpine Halifax City Directory, published the 1 of July, 1882.
By checking our Registry of Deeds we find that Mr. Healy moved to Halifax sometime after O1 January 1871 and that he was still residing in Halifax on the 03 January 1883 but by 25 June 1883 he was a resident of Minneapolis.
According to the ancestry web site, Mr. Healy had two vessels, the schooners Lina and Mary E. Banks. According to the Shipwreck database on the Maritime Museum of the Atlantic web site, the Mary E. Banks was stranded and became a total loss on the North East Reef, L'Ardoise , 30 August 1883."
We knew something about Healy's time in his home village of Round Hill, NS. His brother John's wife was the former Sara Jane Whitman–which suggests a family connection with Healy's business partner in Healy, Whitman, and Company. We also knew about the loss of the Mary E. Banks, which, according to Healy's descendants, ruined him financially and spurred the move to the Midwest.
While this e-mail answers some questions about Healy's time in Halifax, it deepens the mystery of how Healy made the transition from "farmer, commission merchant, and grocer" to master builder. Did he design and build wooden ships in Nova  Scotia? Only further research will tell.
Again, special thanks to Garry D. Shutlak of the Nova Scotia Archives.
–T.B.
     The destruction of the Orth house was a sad moment for the Healy Project. It was designated as an historical resource by the City Council in 2013. We witnessed its demolition last week in a cloud of smoke and hundreds of tons of debris, the remains of the beautiful old house that T.P. Healy built in 1893. The Healy Project did everything possible to halt the destruction of the house, but other priorities and interests prevailed.
     While its destruction is painful, it's done. The Healy Project is still concerned about the corrupted and misleading testimony at trial and before the City Council, and is looking forward to working with the City Council to avoid these problems when discussing preservation and environmental issues in the future. We care very deeply about our local architectural heritage, and while we understand that preservation is merely one concern out of many that city planners must weigh, we believe that our city officials should strive to keep their personal feelings apart from a fair and transparent governing and judicial process.
     It would be understandable to suggest that these concerns are sour grapes or retributive, but the house is gone and nothing will bring it back. When the Healy Project voices its concerns about misleading or corrupted testimony, a lack of transparency, and dangerous demolition practices, these concerns are about the public trust in its institutions. These concerns are about trusting that in the future the City Council doesn't just give lip service to preservation, social, and environmental issues while bending under the weight of private developers and the desire for a larger, more affluent tax base.
     Personal grudges by city officials against their constituents in any forum, including social media, are unfortunate but understandable, especially when based on doctored images. Our city officials will certainly rise above it, and move forward toward not just preserving what makes this city great, but making it greater through an intelligent development and planning policy that includes preservation as a cornerstone. We welcome the opportunity to work with the City Council to ensure that future preservation efforts are not derailed by false or misleading testimony, and that when we as a city decide to destroy historical resources we are not basing those decisions on tainted information.
     Our city has been cast in a bad light on the national stage recently because of these very issues, which nobody wants to see. We'd like to invite civility back to this conversation, starting with ignoring internet trolls whose only interest is stirring up trouble to get attention.
     Preservation and restoration is always the greener option, and our historical treasures are a part of what makes our city exceptional. The Healy Project's mission is to preserve the architectural legacy left to us by Master Builder T.P. Healy. While we will never lose our passion, we have set our personal feelings aside to further that mission. We hope everyone else, including our elected officials, will do the same.
–Richard Mueller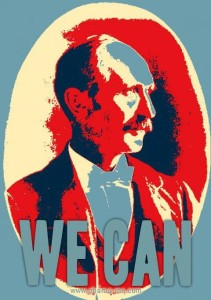 A previous post reported that the salvage operation preparatory to the demolition of the 1893 Healy-designed house at 2320 Colfax Avenue South, aka the Orth House, revealed that most of the architectural features of the house were intact.
A subcontractor involved in the salvage operation sent this e-mail to the Healy Project:
"So many people have either lied or credulously accepted lies about the interior of 2320 Colfax. I'd talked my way into a couple of rooms earlier this year so I knew there was more there than they were letting on but I had no idea… The entry, all 3 parlors and the dining room were essentially the same as you see them in those 2 old interior photos on the Healy site. Wainscoting, window & door casings, cove & coffered ceilings, huge paneled pocket doors, it was all there. The cased openings between parlors and about 4 feet of the North end of the dining room were sectioned off with easily removable drywall partitions.
The real surprise, however, was the 2nd floor, purportedly 'gutted' by fire. 5 of 6 bedrooms had all of their original millwork, cove ceilings, pocket doors, 10-panel closet doors. One of the bedrooms had a fireplace with a brown ceramic face/hearth and with a cabinet built into the wood surround. The only things new in each of these rooms were their doors communicating to the central hall. Anyone taken upstairs could be easily led to believe that the floor was a drywall gut-job, as long as they were kept in the hallway.
The 3rd floor still had some original millwork but, as was so often the case, it was relatively plain.
Seriously, this could've been a million-dollar house."
To get to the link showing photos and video taken by Ezra Gray, click here.
This post will outline the process by which a property owner, by repeatedly lying, finally got City officials to issue a demolition permit for a mostly intact 1893 house that had been declared an  historic resource.
Owner Mike Crow repeatedly misrepresented the condition of a house he wanted to sell as land. At neighborhood meetings, before the Minneapolis City Council and Heritage Preservation Commission, and in District Court, Crow asserted again and again that there was nothing left of the original, historic house at 2320 Colfax Avenue South.
At the hearing before the Heritage Preservation Commission on April 13, 2013, Crow testified: "The only pictures he [Anders Christensen] showed you is the only part of the house that still has anything left, and a good portion of that is not the original house. Everything on the second and third floor was completely gutted."
The Minneapolis Planning Department, apparently eager to get the house down and the Lander Group's apartment building up, accepted Crow's word on faith, without visiting the site.  Basing his opinion on four exterior photos instead of on an examination of the house itself, John Smoley, preservation expert for the Planning Department, repeated Crow's assertions: "Fires in 1991 and 2011 have left little interior fabric. The second and third floors have been completely rebuilt [. . . ] 2320 Colfax has extensive integrity issues and is no longer representative of an intact Healy house."
Thus began the spreading of the big lies about 2320:  That  fires had destroyed the upper two floors, that the second and third floors had been completely rebuilt, removing all of the original appointments, and that the only original components were those visible in the entryway and a front parlor.
Despite these assertions by Crow and Smoley, the HPC declared the house at 2320 Colfax Ave. S. an historic resource. In May, by unanimous vote, the Minneapolis City Council,  after hearing the same testimony that Crow and Smoley had presented to the HPC, reaffirmed the HPC's declaration. The house was officially declared an "historic resource" of the City of Minneapolis.
However, after the 2013 election, Crow decided to appeal the HPC's decision. In his request for a permit to demolish an historic resource (January 8, 2014), Crow declared: "We purchased the building in 1991 after it had been severely damaged in a fire. The second and third floors were taken down to the studs and rafters. Nothing on the 2nd and 3rd floor survived other than apiece [sic] of trim here and there, every room in the house had some damage from the smoke, fire or water. There is not one single room that is in its original state. The only two rooms that are the most intact in the entire building are the foyer or entry and the original living room with fireplace."
Ironically, throughout this process, Crow had been adamant in insisting that if people had seen the house, they would know that his description was accurate—This despite the fact that he had shown the house to several representatives of the Healy Project–but not to John Smoley.
Smoley made his first on-site visit to the house in January 2014 in preparation for the HPC hearing on March 18th. Even after seeing the physical house, in the staff report for the hearing, Smoley repeated Crow's assertions in architectural jargon:
"The property does not retain integrity of materials. The majority of the building's original exterior and interior materials have been replaced or covered.. . Remodeling on the first floor has been very heavy, though nowhere near as extensive as on the second and third floor spaces. There, the character is almost completely late twentieth century due to a comprehensive 1980s-era remodel designed to repair fire damage.  [. . .] Integrity of workmanship is evident in very few remaining exterior features apart from two bow windows and a brick chimney high atop the roof. On the interior, first floor spaces provide limited evidence of late nineteenth century craftsmanship, separated by far more evidence of late nineteenth century work. In any event, the presence of these few, scattered historic features is not sufficient evidence for this residence to retain integrity of workmanship or integrity in general."
After hearing their testimony, Commission Sue Hunter-Weir commented: "[A] year ago we looked at this property; we knew about the fire, we knew about the siding, we knew all of those things and still thought of this property as an historic resource and that was appealed to both Zoning and Planning and City Council and they upheld that. So it seems to me like we're being asked now to say it's not historic enough."
The HPC denied Crow's appeal.
Crow then appealed to the City Council. In his "Determination of Historic Eligibility," Crow sings the same tune, this time with ad hominem attacks (presented here verbatim):  "The entrenched foes of new development encouraged the self promoting amateur historian, working in conjunction with a striving TV starlet to generate letters of opposition from folks ignorant of the property. Unwittingly damaging the Preservationist's cause. With cries of wolf at every new development credibility is diluted, further inhibiting incubation of sound policy. Not everything can be preserved, but if anything it should be the masterpieces. 2320 Colfax was far from a master piece [sic] when it was built much less after three fires, one of which took off the second and third floor.
There is very little left at the property which was built by Mr. Healy.[…]The appellant cites original woodwork, leaded glass and a middle room of the first floor having a fire place. These peices [sic] will surely be saved prior to demolition if they have value. However approximatly [sic] 400 square feet of a total building square footage of over 4,400 means 'little interior fabric' of the original remains intact."
At the April meeting of the Zoning and Planning Committee of the City Council, Crow and Smoley gave basically the same testimony as presented at the HPC. This time, Crow got what he wanted. The committee reversed the previous decisions by the HPC and City Council.
On a motion from new Z&P Chair Lisa Bender, who has publicly supported the Lander development from the outset, the committee approved Crow's appeal. A month later, the full City Council voted 11-2 to issue the demolition permit for an historic resource. One of the dissenters was 5th Ward CM Blong Yang, who had in fact toured the house. CMs Elizabeth Glidden, Cam Gordon, Barb Johnson, Kevin Reich, and John Quincy, all of whom a year before had declared the house an historic resource, reversed course, and voted for demolition.
When the Healy Project took Mike Crow to District Court for his plans to demolish an historic resource, once again Crow and Smoley repeated their testimony that the upper floors had been burned and rebuilt, that the interior fabric was destroyed, that the house had no integrity of materials, etc., etc.–this time under oath.
These are the facts. All testimony is taken verbatim from the public record.
". . .at the length, the truth will out." The Merchant of Venice, Act 2.
Next: The testimony by the owner's broker, Tom Dunn (Terra Firma Commercial); the developer's hired historic preservation expert, Amy Lucas (Principle, Landscape Research); and Pete Keely (Collage Architects) of the Lander Group Development Team–all of which repeated the initial claims of owner Mike Crow.
–T.B.
Click here to DONATE to save the house via Paypal. Donations are also being accepted via GoFundMe "Help Healy Project Save the Orth House."
This morning neighbors and other admirers of the Orth House gathered in front of 2320 Colfax Avenue South to take a photo. The photo was then uploaded to the gallery of photos of "Places That Matter" on the website of the National Trust for Historic Preservation.
Photos by Bradley Lemire