'Ever wonder about the history of the elegant houses on Lake of the Isles? Join guide Trilby Busch to hear about the history of the development of the lake, the parkway, and the houses on it–who built them and who lived in them, dates and styles.
Meet at the intersection of West 27th Street and East Lake of the Isles Parkway at 1 p.m., and walk the east side of the lake, taking a detour onto Lake Place. The tour will be canceled only in case of heavy rain or severe weather at the time of the tour.
Some of Minneapolis's most celebrated architects built residences on East Lake of the Isles:  Ernest Kennedy, William Gray Purcell, Liebenberg and Kaplan,  Adam Lansing Dorr, and Harry Wild Jones, to name just a few. While no houses on the lake were designed or built by T.P. Healy (he died before the boulevard was developed), one house on the tour was designed by master builder Henry Ingham.
Get tour vouchers here:  https://www.eventbrite.com/e/east-lake-of-the-isles-parkway-walking-tour-tickets-33688588475
Free Library Event.
Walker Library. 2880 Hennepin Ave. S. Minneapolis. 612.543.8400
             HENRY INGHAM                    Henry Parsons
From Yorkshire to Minneapolis: The Architectural Legacy of Master Builders Henry Ingham and Henry Parsons
Saturday, March 18th, 1-3 p.m.
A presentation by Trilby Busch and Anders Christensen of the Healy Project
Along with theron potter healy, ingham and Parsons are the "Big Three" master Builders of turn-of-the-century minneapolis. Take a Virtual tour of north and west Yorkshire, england, the home country of ingham and parsons, followed by a presentation of the buildings they designed and built in minneapolis.
For more information, see these posts on this blog:
"Henry Ingham's Yorkshire" August 10, 2016 and "More Hauntings: Houses by Henry Ingham" October 24, 2015
–T.B.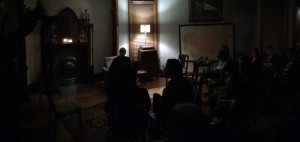 On the evenings of October 23rd and 24th, guests gathered in a restored 1892 Queen Anne house in Lowry Hill East to hear folklorist Trilby Busch tell ghost stories. Owners Christina Langsdorf and Ezra Gray staged the house with creepy Halloween accoutrements and set out trays of "mummies", "ghosts", and candy as refreshments.  The storytelling itself was lighted only by candles and a single lamp.
Trilby retold ghost stories she has collected about houses in Minneapolis, St. Paul, Duluth, and smaller towns in Minnesota. One of the stories was about a ghost who had haunted a house in the neighborhood. On Saturday night, when the storytelling ended, Christina announced that their eight-day clock in the front parlor (which had been wound up that afternoon) had stopped short of 8:30, as Trilby was telling this story. The clock had worked perfectly for years without stopping. Had the ghost dropped by to alert them that he is still around?
–Event photographs by Richard Mueller
–Decoration photographs by Christina Langsdorf.